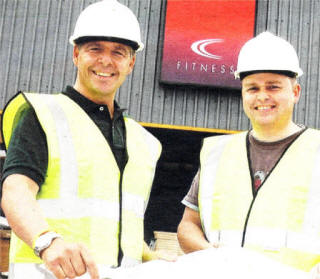 THE doors opened recently at Lisburn's very own Premier Health Club & Spa in a million investment which has created 20 new jobs.
Club Class Fitness, which is based at Blaris Industrial Estate, spans 12,000 Sq Ft and has been designed to give an open plan and glamorous feel to the gym which provides a natural flow of activity for users.
The £1 million investment, put up by owners Keith Wilson and Martin O'Neill, will provide members with the latest state of the art technogym equipment with iPOD and Sky integration, over 50 classes per week, top class instructors and a luxury Spa including steam rooms, whirlpool spa and treatment rooms.
Club Class Fitness will also house Kinesis, an innovative free motion experience which will be the first of its kind in Ireland, a flexibility zone to manage back care and ensure sure that members stretch safely, and a dedicated spinning studio all under one roof.
Owner Keith Wilson said: We are delighted with how the gym is shaping up and have had an excellent response already.
"Club Class Fitness fills a gap in the market for people who are looking for not just somewhere to exercise, but those who require a health & fitness experience which soothes the mind as well as the body."
Keith and Martin have been keen to keep monthly membership costs to a minimum.
For further information visit www.clubclassfitness.co.uk or call 92603494.