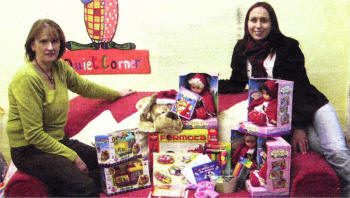 THE Colin Christmas Appeal, organised by the Colin Neighbourhood Partnership and NSPCC has been launched to allow the community to think of young children who are not as fortunate as themselves and donate a present, however small, to those in need. The presents will then be distributed by the NSPCC.
The presents are for all young people aged 0-18 years, however the Partnership is encouraging people consider presents for those aged 8-13 as in the past this age groups seems to have been neglected.
The present should be new and unwrapped — a gift bag would be more suitable. Suggestions for presents are new stationary, games, toys, DVD's and gift vouchers.
Joan Hughes, Children's Services Manager at the NSPCC Clanna Centre, said: "I would like to thank the local community for all
their support in the past two years and assure you the NSPCC will continue to be committed to supporting people in the area. We would like to encourage everyone to please donate a gift this Christmas and help make this Christmas special for some children."
The Colin Neighbourhood Partnership and the NSPCC are very grateful to everyone who contributed presents over previous years and would like to extend gratitude to all those who will take the time to give a child a better Christmas this year.
Presents can be left into the Colin Neighbourhood Partnership office at Unit W4, The Dairy Farm, Stewartstown Road. Please note that all presents must be left in by Friday December 12.
For more information contact Gemma on 9062 3813 or visit www.newcolin.com.