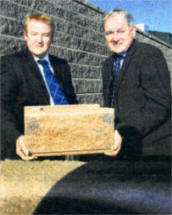 A DUNMURRY company which manufactures an innovative walling system has broken into the market in Great Britain with a contract for a huge wall nearly three-quarters of a kilometre long.
Colinwell Concrete, a family-owned company which has been in business since 1888, recently partnered with a Warwickshire-based firm to develop a new market in Great Britain for its Allan Block retaining wall system, which is manufactured under licence from its American developer.
By combining Colinwell's know-now and a dedicated workforce with the availability of excellent local aggregates for manufacturing in Northern Ireland, Colinwell is planning to build a significant market for the innovative product throughout the UK and Ireland.
Phelim McQuillan, Joint Managing Director of Colinwell, said: Our distribution partner, SCP Environmental, helped secure the contract for the £750,000 wall which was built as part of a major warehouse project in Chepstow. "It's our first major exporting success in terms of breaking into the big market in Britain. In fact, this was the largest single segmental block retaining wall ever to have been built in Great Britain and was a major undertaking for us."
Colinwell employs 20 people at Colinglen Road in Dunmurry manufacturing the Allan Block system and Architectural Masonry products.