by JULIE-ANN SPENCE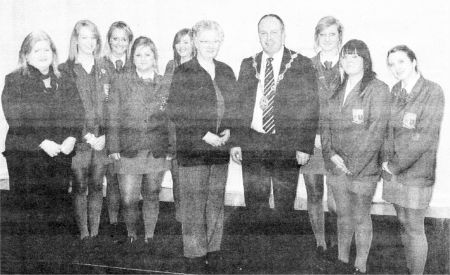 Hunterhouse College pupils with teacher Mrs Walker, principal Mrs Clark and Lisburn Mayor James Tinsley.
EIGHTY young people, from schools throughout Lisburn and Belfast, came together at Lisburn's Lagan Valley Island recently to receive their certificates for successfully completing a Community Relations course.
Accredited by Open College Network, the course is delivered by N.I. Childrens Enterprise in fifteen schools in the Lisburn and Belfast areas.
The course, entitled 'Citizenship In A Divided Society', is delivered to young people in Year 13 and gets them to look at their values and beliefs; their stereotypes, assumptions and judgements; and how best to deal with conflict.
Schools attending the presentation ceremony included Fort Hill College, Hunterhouse College, Corpus Christi College, La Salle Senior Boys School, St. Dominic's High School and St. Genevieve's High School.
The guest speaker was Lisburn City's Mayor —Councillor James Tinsley —who also presented the certificates.
NI Childrens Enterprise's Schools Community Relations Programme Coordinator, Alison Dougherty, was very pleased with the turnout for the event.
"To see so many young people together here today to receive their community relations certificates is extremely rewarding" she said.
"I would like to congratulate them, and thank their teachers and principals for timetabling us into the school day.
"We have seen a steady increase in the demand for delivery of programmes such as ours, and more schools are regularly coming on board, wanting to offer an accredited Community Relations course to their pupils.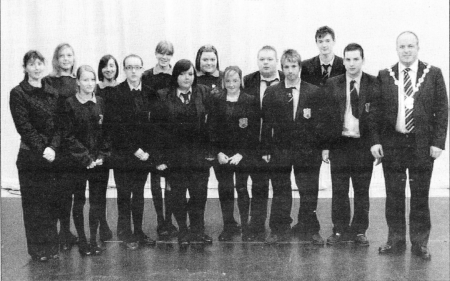 Fort Hill College pupils with teacher Mrs Muldrew and Lisburn Mayor James Tinsley.