HUSBAND AND WIFE SCOOP TOP PRIZE
by NEIL GREENLEES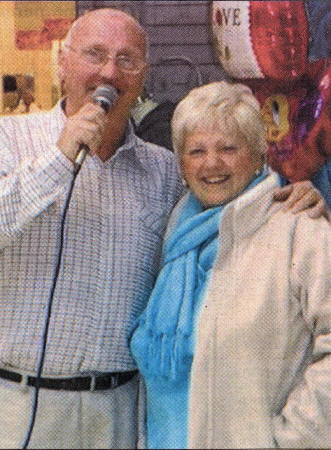 Romantic couple - Connie and Lilian Wright.
A LISBURN husband and wife have been judged the most romantic couple to pass through the doors of one of Northern Ireland's busiest shopping centres on Valentine's Day.
Connie and Lilian Wright who have been married for 46 years were enjoying a bit of retail therapy in the Park Centre on February 14 when they came upon a `Mr and Mrs' type event being run in the complex by the Dunmurry based organisation 'Race Against Multiple Scelerosis' (RAMS).
A long with other couples they each answered a variety of questions posed by the charity's manager Billy Joe Beck and were surprised and delighted to take first place.
As well as jewellery they received a bottle of wine and bouquet of flowers. They are also due to enjoy a romantic meal for two, complete with wine, in a Park Centre Restaurant.
Indeed, as Mr. Wright explained, wine featured in the experience they described to Billy Joe as their most romantic - a break in Paris organised for them by their five children which included a memorable dinner cruise along the River Seine. "When we got on to the boat each table had a bottle of red wine and bottle of white wine," he said.
"A few of the tables round about us were empty and I asked if I could swap the white wine for a bottle of red.
"But when the red was finished I asked the waiter if we could try the white and he gave us a bottle of it as well.
"Our trip to Paris was really very romantic and we both enjoyed it very much."
Mr. and Mrs. Wright met at the Plaza Ballroom in Belfast's Chichester Street - one of the city's leading nightspots during the 1950's and 1960's.
They discovered they were both employees of the Monarch Laundry and were married in Great Victoria Street Registry Office.
Initially, they lived in Belfast before moving out to Glenmore. They recently moved again to one of the new bungalows constructed by the Ulidia Housing Association off Knockmore Road and are very happy in their new home.