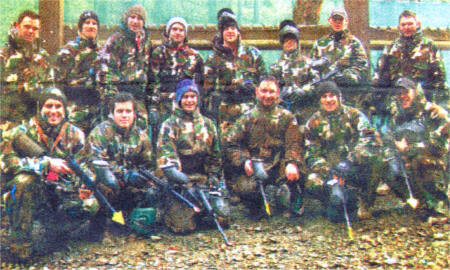 The Coors Belfast Giants who enjoyed a highly competitive day at the Jungle Paintball in Moneymore. MM11-500 con
WITH the Elite Ice Hockey League season drawing to a close, the Coors Belfast Giants hung up their skates and opted for a day at the Jungle Paintball in Moneymore.
The Giants, who are currently third in the league, enjoyed a highly competitive day - divided into two teams, the Canadians versus the British, several light hearted disputes ensued over cheating.
The British emerged as the overall winners, leaving the Canadians to pay for chips and beers on the way home. Leigh Jaimeson from the Giants commented: "The Jungle was a great set-up with explosions and smoke bombs simulating a realistic battle scene". Meanwhile, Lewis Christie added that he was surprised at how much the games got his adrenaline pumping!
The Jungle was the first paintball site to open in Northern Ireland after the law changed in 2005, permitting people aged 16 or over to take part in paintball games without the need for a firearm certificate. Since then the Jungle has gone from strength to strength adding four new games zones to the original 10, a speedball field and a clay pigeon shooting facility. The award-winning Jungle Paintball has further plans to diversify this summer by opening Ireland's first Zorb site.
Zorbing is a recreational activity which involves rolling down a hill in an inflatable, transparent, sphere made from PVC.
Robert Carmichael, from the Jungle said: "We've had a great couple of years and hope to bring many more exciting attractions to the site."
To find out more about Jungle Paintball in Moneymore call 028 8674 8881 or visit www.thejunglepaintball.com.