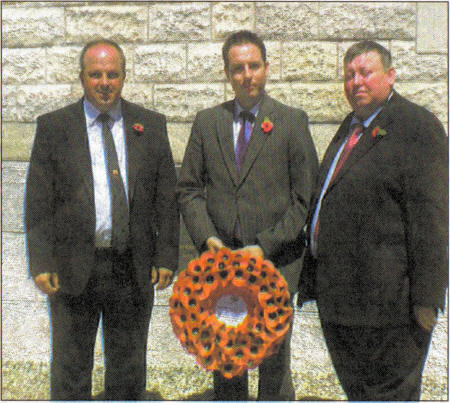 The Lisburn councillors lay a wreath.
LISBURN Councillors Paul Givan, Jim Tinsley and Paul Porter have travelled to Belgium and Northern France representing Lisburn City Council to pay their respects on behalf of the people of Lisburn to the soldiers who lost their lives in the Great War of 1914 -1918.
Many of the Ulster dead are buried at the edge of Thiepval Wood in the Connaught Cemetery.
A short distance away to the north, across the sunken road and up the hill are Mill Road Cemetery, and the 36th (Ulster) Division's Memorial. This is the Ulster Tower, built as an almost exact replica of Helen's Tower in Clandeboye Estate near Bangor in County Down where many of the soldiers of the Ulster Division trained.
Battlefield
The Ulster Tower and Mill Road Cemetery are very near to the site of the Schwaben Redoubt, and both command a panoramic view of the surrounding countryside and former battlefield.
The Councillors also visited the monument erected to pay tribute to the sacrifice of the 16th Irish Division and attended the main service held at Theivpal Tower. Councillor Givan who laid the wreath at the Memorial Service said, "I visited many of the cemeteries and battlefields where so many people lost their lives and we should never forget the supreme sacrifice paid by so many.
"The 36th Ulster Division is renowned for its courage and bravery, particularly in the battle of Somme. We owe a debt of gratitude to the soldiers who came from Lisburn and all across the Province of Ulster.
As I walked around the cemeteries I was struck by the sheer number of soldiers who gave their lives in the Great War and particularly at how young many of them were.'