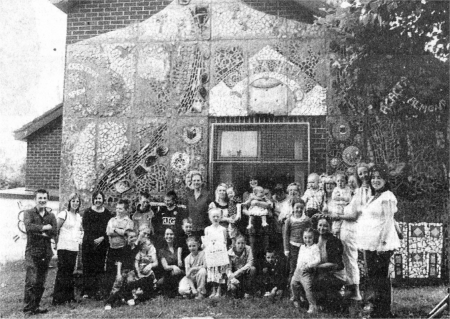 Local community participants pictured in front of the new mosaic, along with Jackie Witherow, Community Development Officer, Arts Council of Northern Ireland and the artists.
A NEW mosaic wall feature was unveiled at St. Luke's Family Centre in Twinbrook last week, reflecting community life, brightening up the area and making it more attractive to the local community.
£12,901.00, part of the Arts Council's £3 million Re-imaging Communities Programme (on behalf of the Shared Communities Consortium), was awarded to St. Luke's Family Centre for 'Cara House Community Smile Project' in December 2007.
The mosaic was developed through a series of cross-community workshops with Ballymac's Friendship women's group from East Belfast, along with four primary schools, a group for young people and one supporting people with disabilities from the Twinbrook area.
Describing the work Fiona Diver, St Luke's Family Centre Co-ordinator said: "This project has been a fantastic opportunity for the Family Centre and the community as a whole. Over 150 people from all ages and abilities have been involved in the design and construction of a piece of permanent artwork, and we have worked with many people from the local community and cross community also.
"We are very hopeful that today's launch not just about the end of this project, bin about the beginning of more community an activities through St Luke's Family Centre, and that the community will enjoy it as much as we have enjoyed working on it."