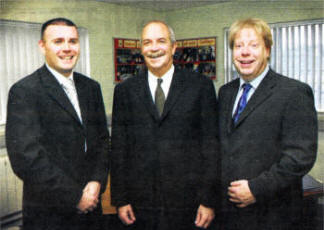 TWO teachers at Crumlin Integrated College are to travel to Hong Kong to represent Northern Ireland at the Microsoft Worldwide Innovative Teachers' Forum in November.
Tom Fitzsimmons and Ciaran McLaren were chosen to showcase their innovative pilot course which was initiated as a foundation for year 10 pupils who would later choose GCSE Double Award Engineering and Maths. The design and planning of the course required students to have no prior knowledge of engineering concepts or any previous experience in learning through the virtual environment. The course planning had to ensure the students were fully introduced to both the rules of online learning and the fundamental concepts of Engineering.
Tom and Ciaran will be joined by Eileen McStocker of St. Pius X College. The teachers from both schools are part of the Northern Ireland Regional Training Unit's (RTU) Online Learning and Teaching for Educators Programme, (OLTE).
This programme, funded by the Department for Education, aims to develop and support schools' ability to use e-learning effectively.
Dr Annabel Scott, Headmistress of Crumlin Integrated College said: "I am delighted that two of our teachers have been chosen to represent Northern Ireland. They are really looking forward to competing against their peers from all over the world in Hong Kong."
Dr Scott, who also chairs Antrim Learning Community, continued: "The delivery of GCSE Double Award Engineering has developed from the planned provision for teachers and pupils to share teaching and learning both online and through video conferencing."
Tom Jackson, Schools Technology Innovation Centre Manager, Microsoft Northern Ireland, said: "As the world changes and the skills our children need in the work force of the future change, we need to move education to a model of 21st Century learning. These projects are great examples of the innovative approach we should be taking." The Forum will take place in Hong Kong from November 3-6.