by JENNY MONROE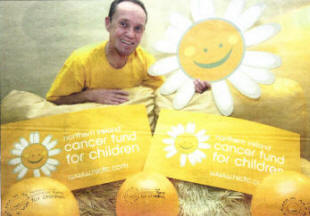 A LISBURN man is preparing for the challenge of his life in a bid to raise money for children with cancer.
In May next year David Bowes from the Tonagh Estate will delve into the depths of the Grand Canyon to complete a nine day trek and raise money for the Northern Ireland Cancer Fund for Children.
David's motivation to get behind the trek stems from his own upbringing and the value he places on family. Coming from a family of fourteen and having two children of his own, he felt compelled to help after hearing about the NICFC's appeal for volunteers to take on this challenging trek.
David commented: "I have always been a person who gave generously to charities. I have donated through give-as-you-earn schemes at work and I must admit I can't pass a collection box without searching for at least something to place in the box. But I feel that I am at a stage in my life where I have more time to dedicate myself to help others and this is why I have taken the opportunity to challenge myself and help children in Northern Ireland living with cancer."
David attended an open evening to find out more detail on the trek and after hearing of the services which would benefit, he was 100% sure of his decision to take part.
David's challenge won't be easy -firstly he faces the task of raising
£3000 through his own fundraising activities and secondly he has to conquer one of the natural wonders of the world.
David summed up his motivation to take part; "It was never an easy decision and I thought long and hard. In the end I opted to do whatever I could to help, be it support or raising awareness, to help fund NICFC services which I now know are a lifeline to the many families who use them."
If you would like to sponsor David Bowes to 'Conquer the Canyon' please log on to his webpage www.justgiving.com/davidbowes, your donation will go directly to the NI Cancer Fund for Children.