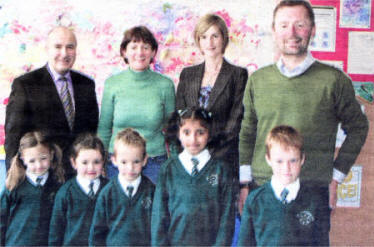 LOCAL author Declan Carville has officially opened the newly refurbished library at St. Aloysius Primary School. The library has been totally transformed with new lighting, flooring, decor and custom-made child-friendly library furniture.
It is now fully computerised with each pupil and member of staff having their own electronic library cards. The existing school stock was increased by the addition of 1000 new books provided by Base library services.
Declan Carville, who is the author of books such as The Fairy Glen and The Magic Harp, said he was amazed at the child friendly and spacious library.
He unveiled a plaque commemorating the event, which is part of the school's 40th anniversary celebrations.
Declan had a busy day reading a selection of his stories to the Nursery, Foundation and Key Stage 1 pupils. The Key Stage 2 pupils benefited from his writing workshops.
The transformation of the library, which cost £4,000, was made possible by the PTA and extended schools programme.