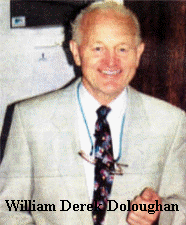 LISBURN accountant William Derek Doloughan, known affectionately to those who worked with him as 'the boss' was laid to rest in the graveyard attached to Ballinderry Middle Church last Saturday after a long battle with Alzheimers Disease.
The commital was preceded by a service in the nearby Parish Church attended by his family, friends, clients and long term colleagues who said he would be 'sadly missed but remembered with deep affection.
Speaking after the funeral Noelle Gault, who joined Mr. Doloughan's firm in 1979, described him as 'a lovely man who would have done anything for anyone'.
Her colleague Tim Scott, who joined the company in 1993 also remembered his late employer with deep affection and spoke of the great respect he held for Mr. Doloughan's 'exacting professional standards' which meant he 'did not like corners being cut'.
The well known accountant who died last Tuesday (April 8) at the age of 67 was the son of John and Agnes Doloughan o f Ballymacormick Road, Dromore.
He was educated at Ballyvicknakelly School on Dromore's Ballynahinch Road before taking up employment at the age of 14.
However, shortly after he obtained his first job the Doloughan family emigrated to the USA.
Because the school leaving age there was higher than 14 he had to go back to full time education.
He spent almost two years at a school just outside Chester in Pensylvania until his family returned to Northern Ireland.
At this point he obtained a position with Stanley Woods and Co., a highly regarded accountancy practice based in Lisburn's Ulster Buildings. Mr. Doloughan went on to become proprietor of the business and its name changed to W.D. Doloughan and Co.
He took a keen interest in Lisburn's commercial life and was a Past President of the city's Chamber of Commerce.
He was also a long standing member of the Rotary Club of Lisburn and held the position of Captain of Dromore Rugby Club for two years. Mr. Doloughan had strong links with the Killultagh Hunt and was a member of a local horse racing syndicate along with a number of other prominent representatives of Lisburn's business community.
He married his former wife, Wilma in 1963 and the coup 1 e , who eventually separated had three children - Claire, Pauline and Derek Junior.
Claire followed her father into the family business but sadly he was forced to retire when Alzheimers struck and his company became incorporated into Johnston Kennedy D.F.K. Chartered Accountants.
Eventually, Mr. Doloughan was unable to remain at home - Holly Tree Farm on Ballinderry's Meeting House Road.
He spent a period in Lagan Valley Hospital before becoming a resident of Sandringham Nursing Home, Portadown where he died last Tuesday.
He is survived by his partner whose name is also Wilma; his children; his sons in law Peter and Derrick; his daughter in law Shelley and his grandchildren Nathan, Madison and Ethan.
Other surviving relatives include his sister Helena and brother in law Ian; another sister Maud who lives with her family in California and a number of nephews and nieces.