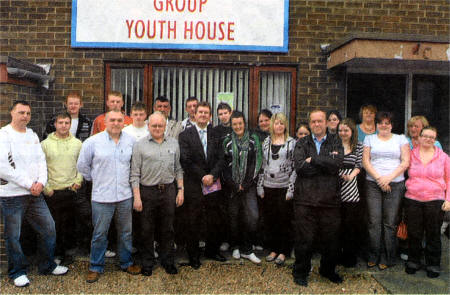 LEFT: Lagan Valley MP Jeffrey Donaldson with Adrian Bird from Lisburn Community Self Build Limited, John McStea from Old Warren Partnership and Joe Porter from St Johnston and Raphoe Family Resource Centre with representatives from the two communities during the recent cultural exchange.
LISBURN Community Self Build, a social economy business based in Old Warren, recently welcomed representatives from the St Johnston Family Resource Centre in Raphoe to the city. The visit from the Donegal group was part of a cultural exchange, made possible through funding from Proteus and the EU Peace II programme.
During their visit to Lisburn the group enjoyed lunch at the Highway Inn before touring the community facilities at Hillhall. They then attended a reception hosted by the Mayor of Lisburn,
Councillor James Tinsley, who presented the group with a plaque to commemorate their visit. The group were then taken on a tour of Old Warren estate, where they visited the memorial gardens, community projects such as the Raggety Bap, the Welcome
House and the Laganview Enterprise Centre. They also enjoyed dinner at the Point before returning to the Highway Inn, where they enjoyed a concert by the Lisburn Fusiliers, with some of the Irish visitors also joining in to play some traditional music.
Adrian Bird, who runs Lisburn Community Self Build, said he was delighted with the success of the exchange, which has expanded to include a future exchange between the two bands and even between local sports teams.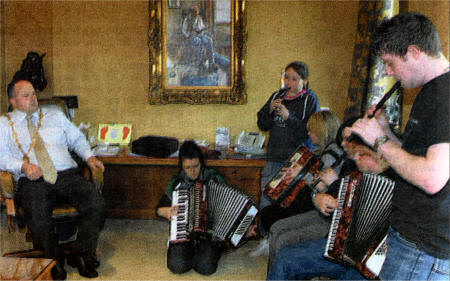 Lisburn Mayor Councillor James Tinsley enjoys some traditional music played by the visitors from Raphoe.