by MARY MAGEE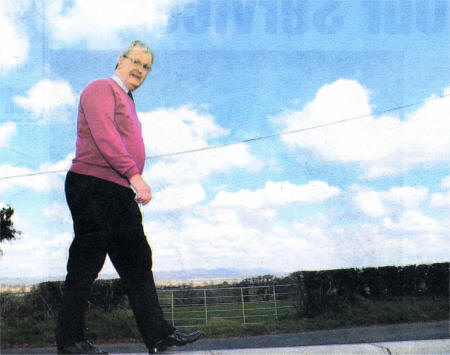 Doug Cooke who will leave for China on May 17 for a trek of the Great Wall of China in aid of Marie Currie. US1608-528CO
WHILE most people look forward to retiring as a chance to put their feet up and take life easy, a Hillsborough grandfather has no such plans to do that now that he is stepping down after 16 years as a manager of a nursing home.
67 year old Doug Cooke is joining the Marie Curie trek to the Great Wall of China next month.
Doug is retiring as General Manager of Lisadian Nursing Home, on the Moira Road in Hillsborough and hopes to raise £5,000 for the charity with the trek. He already has gathered £1,600 from a bag packing event at Tescos in Banbridge and has received donations. Doug, who was an elder with the Elim church in Hillsborough, has been training for the event for the past year and attends the Leisureplex four times a week to make sure he is ready for the gruelling adventure.
"I just happened to open up a magazine and saw an advert about the trek to the Great Wall of China and I thought 'yes' I could do that," he said.
"With my job I see how important the work that Marie Curie nurses do really is and felt I wanted to give them something back in return.
"I would like to thank everyone who has helped me raise money for Marie Curie, including church friends staff at the nursing home, family and friends."
Doug's itinerary starts on May 17 when he flies to Beijing with the prospect of walking up to eight hours a day in temperatures of up to 30 centigrade with high humidity.
His journey will take him from the Hebei Province to Jin Shan Ling, Erlaingzi, Gu Bei Kou and back to Hebei Province.
Marie Curie Nurses, who rely on fundraising events such as these, now care for around 50 per cent of all cancer patients who die at home.