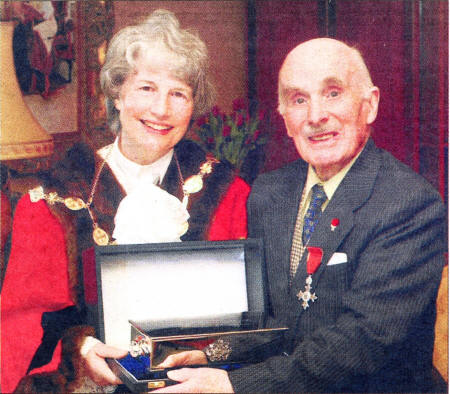 FORMER Mayor and first Freeman of the City of Lisburn, Dr Samuel Semple MBE JP, passed away peacefully at home last Friday (October 31) in his 92nd year.
Dr Semple was a well-known and much-loved figure who dedicated his life to the education of young people and the advancement of Lisburn.
He was actively and prominently involved in Local Government in Lisburn for 24 years as a Councillor and Alderman, from his election to Lisburn Borough Council in 1973, until his retirement in 1997.
During that period he held office in a wide spectrum of committees as Vice-Chairman and Chairman, culminating in his election as Deputy Mayor, 19771979 and Mayor of Lisburn from 1979 to 1981.
His work, commitment and dedication to his many activities over the years led to him becoming the first ever Freeman of the City in 2003, Lisburn's highest honour.
Dr Semple was an ever-present figure throughout the City of Lisburn's history and was a strong advocate of the City Status campaign.
He was also instrumental in the educational lives of many of Lisburn's young people.
Dr Semple was a stalwart of the College in Lisburn and has had an almost lifelong connection with it which started when he arrived as a 12 year old pupil in 1932; he later returned as a teacher and was Vice-Principal of Lisburn Technical College from 1963-1966, before going on to become Principal of Lisnagarvey High School.
Mr Alister McReynolds, former Principal of Lisburn Institute of Further and Higher Education and long time friend of Dr Semple, spoke this week of the 'courteous, thoughtful, dedicated, devoted and intelligent man' who had served Lisburn's young people for so many years.
"The thing that most people say is that he was extremely courteous," said Mr McReynolds.
"He was thoughtful and he possessed a courtesy that is almost old world now.
"He was very deferential to people and he would never do anything that he thought would be hurtful in his everyday dealings with people.
"But for me the great gift that Sam brought was his great intellect. In spite of being very much an Edwardian gentleman, he was capable of great rational thought."
Mr McReynolds also highlighted Dr Semple's strong political convictions. "I would describe him as a great Ulsterman," he continued.
"He had a love of politics. He was surprising. He was very much an Ulster Unionist but he had an understanding of Irish Nationalism. Sam's party piece was singing the Fields of Athenry with some emotion and fervour.
"He was also a very religious person and a devoted Anglican, who had great feeling for the Prayer Book," added Mr McReynolds.
"He was 100% for Lisburn and for Lisburn College, which he regarded as his alma mater. He was a pupil, teacher, Vice Principal, a governor, Vice Chairman and Chairman of the College's Board of Governors.
"He was a tremendous mentor to me. As far as I was concerned he was the world's gentleman and I never had a cross word with him."
As well as his dedication to Lisburn and Lisburn College, Dr Semple was above all a family man.
"He was devoted to his wife Edith and often brought her to events," said Mr McReynolds. "Sometimes he would refuse invitations if she wasn't invited. She was his partner." Edith predeceased Mr Semple last year.
Mr McReynolds also recalled Dr Semple's love of gardening and the times they spent discussing one of their favourite topics - history.
"He was a strategic thinker in all he did. He was very interested in geneaology and history and he would talk for hours. He was one of the great talkers but also a great thinker."
Mayor's tribute to man he knew for half a century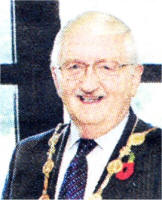 LISBURN Mayor, Councillor Ronnie Crawford, led the tributes to Dr Samuel Semple this week and as a mark of respect all City Council Committee meetings were postponed.
"It was with great sadness that I learned of the death of the first Freeman of Lisburn City, Dr. Sam Semple, whom I have known for the last 50 years," said Mr Crawford. He was my English master at the former Lisburn Technical High School where he was held in great esteem because of his motivation and earnest encouragement, which he sought to impart to all his pupils. "Over all those years I have never known any former pupil to speak of him except in terms of endearment and he became quite an institution in this city, which he loved so much. He had a great grasp of our local history, an undying love for his country and its institutions. He was also a very committed Anglican and devoted to his wife and family.
"Right until the end he was delighted to learn of the achievements of any of his former pupils whose names he could recall with great accuracy. His passing has left a large gap in our civic landscape but all those of us who had the privilege of knowing and working with him will always remember him with great affection," he said.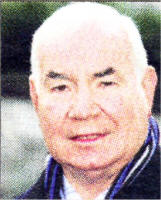 Alderman Ivan Davis, who was elected to the council at the same time as Dr Semple, also paid tribute to his friend and former colleague.
We both entered local government in 1973," said Mr Davis. "His contribution to local government and the Borough of Lisburn in particular was invaluable.
"Sam Semple was a highly talented and giftedperson. He treated us all with the same unfailing courtesy and good humour and had the total respect of everyone who knew him."
Adjourning this week's meeting of Lisburn City Council's Planning Committee as a mark of respect, Chairman Councillor Bill Gardiner-Watson, also spoke warmly of Dr Semple. "He represented the council with distinction on many boards and authorities and was also the first freeman when Lisburn became a city" he said. " I would like to express my deepest sympathy to Dr Semple's family on their great loss."
DUP group leader on Lisburn Council Alderman Edwin Poots, speaking on behalf of his colleagues, said Dr Semple had made a huge contribution to the City of Lisburn.
"He was a remarkable individual with a tremendous intellect who will ne sadly missed, we express our deep condolences to his family at this sad time" he said.
As a mark of respect the Mayor requested the flag at the Civic Centre was flown at half mast on the day of Dr Semple's funeral.
`A man of vision, faith and unswerving dedication'
AT the funeral of Dr Samuel Semple at Christ Church on Wednesday, Canon Dr Ken Cochrane spoke of a man of vision, a man of faith and a man of unswerving dedication.
"I can say without equivocation or reservation - I have never ever met a person of such devotion, dedication, skill, achievement, zeal and motivation in one person in my fifty years ordained in the Priesthood of the Church of Ireland, than that which was contained in Dr Samuel Semple," said Dr Cochrane.
"As a young man he came to realise that God had a work to accomplish through him, and his Christian faith was to lead him to the meaning of his life. The young Samuel Semple found his vision for his life - his vocation to teach.
"He loved his neighbour, irrespective of his class, creed or denomination. This was reflected in all aspects of his life," continued Dr Cochrane.
"He loved his church and his faith to be a continuous learning to his journey's end. Christ Church Lisburn was very dear to his heart. He loved the traditional worship, which enabled him and prepared him to meet his saviour and no doubt he has heard "well done, good and faithful servant, enter now into the joy of they Lord."
Following the service at Christ Church, Dr Semple was laid to rest at Aghalee Parish Church, Soldierstown, following a short service led by Rev Paul Dundas.
Dr Semple was pre-deceased by his wife Edith. He is survived by his sons Kenneth and Paul, daughter-in-law Barbara and grandchildren Adam, Louise and Stephen.
Principal's great sadness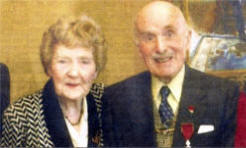 PRINCIPAL and Chief Executive of South Eastern Regional College Mr Ken Webb spoke of his sadness at the passing of Dr Semple.
"I have had the privilege to have known Dr Semple for quite a number of years," said Mr Webb He was my teacher when I came to the College and I always found him to be a very professional and committed person. It was my great pleasure to have met with him again this year when I took up the position of Principal at the College.
"Dr Semple had given many dedicated years to the College, first as Lisburn Technical College, then Lisburn College and Lisburn Institute and his support has still been as strong since we became South Eastern Regional College," he continued. "I am proud that Dr Semple made the considerahle effort to attend our Higher Education Graduation Ceremony in September this year, despite being in ill health, to present the Dr Semple Cup to the 'Most Enterprising Higher Education student'. He used this occasion to reaffirm his commitment to the College and to outline the importance of further and higher education in Northern Ireland. He will be very sadly missed."
`He was an inspiration'
THE Principal of Lisnagarvey High School, Mr Jim Sheerin, said his predecessor was an "inspiration". Speaking after Dr Semple's funeral this week, Mr Sheerin said: "Dr Semple was a man of great vision based on his Christian values.
"He was an inspiration to others and one of the most impressive educators I have ever had the honour to know and work with.
"His contribution to Lisnagarvey High School and Lisburn is a legacy of striving for excellence and expecting nothing but one's absolute best. His expectations were high for all of us and based on his being a teacher of boys.
"Those high expectations he had for his pupils were the same high standards he expected of them when they became citizens in business or leading the community. He was a great man who made a great contribution and will be sadly missed by his many friends and colleagues."