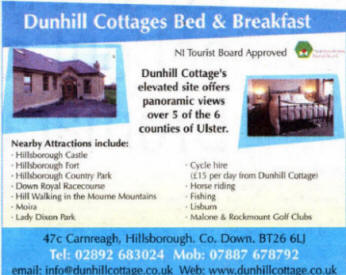 DUNHILL Cottage is a newly built bed and-breakfast cottage that offers the very best in luxury accommodation.
It adjoins a working family dairy farm, and their eco friendly cottage boasts wood chip heating and rain water collection and where possible it sources all its produce locally.
Only five minutes walk from the picturesque Georgian village of Hillsborough, you can take advantage of your stay and enjoy a tour around Hillsborough Castle, or a walk in Hillsborough Forest Park.
Located near the Al it is situated just five minutes drive from Sprucefield Shopping Centre, and Lisburn City Centre, 15 minutes from Belfast city centre, and 20 minutes from The Outlet at Banbridge.
It is an ideal location for both holiday makers or business people, that boasts of panoramic views of five counties.
Toursits who stay can experience the International oyster eating festival or the Raw Outdoors Adventure Festival in Hillsborough village or make use of the local Hillsborough Village Centre which is only a six minutes walk away. Alternatively you could hire a bicycle from Dunhill Cottage to enjoy the fabulous scenery at your leisure.
Dunhill provide for special interest groups, and tourist information for the local area is provided including recommended local walks and tours. There is also disabled access.
Ulster Star
04/07/2008