by NEIL GREENLEES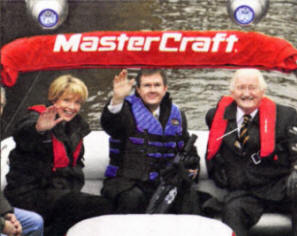 THE Tánaiste Mary Coughlan visited Lisburn last Friday to help boost plans for the East West Waterway which would allow boat owners to sail from Lisburn to the Co. Donegal town of Ballyshannon.
Ms. Coughlan described the project, which would link the city with the Erne-Shannon Canal and could provide Northern Ireland with benefits worth an additional £4 million per year, as 'a particularly ambitious and strategic concept'.
She explained the Northern Ireland Assembly and the Dublin Government were working together towards the "promotion of the island of Ireland as a world class tourist destination.
"Without doubt, we have a wonderful product in terms of natural beauty which has lots of scope and potential on which to increase visitor numbers. By creating an East West waterway we can show off the island in all its splendour, giving tourists a unique experience. I lend my full support to this project and wish it every success," she added.
The Tánaiste was welcomed to Lisburn by Lagan Valley MP Jeffrey Donaldson who described her visit as 'of huge importance' because it was about "making the project a reality".
"It gives us the opportunity to demonstrate the benefits of the investment into the inland water ways, both in Northern Ireland and in the Republic," he said. "The impact of the completed and ongoing schemes along the Lagan canal are only the tip of the iceberg as to what can be realised by the East West Waterway Project which will eventually connect Belfast and Lisburn with Ballyshannon and the Erne -Shannon waterway. "
Allan Ewart, Chairman of the Council's Environmental Services Committee explained a Trust, currently operating in shadow, would see the development of the Lagan Canal through to completion.
Councillor Jenny Palmer, Vice Chairman of the City Council's Economic Development Committee said she was delighted Mr. Donaldson and Ms. Coughlan were supporting the scheme.
"This is a positive step forward, and is vital to the project's success. The support of Central Government, North and South, is important in terms of strategic leadership, technical advice and finance, for the project to succeed," he said.