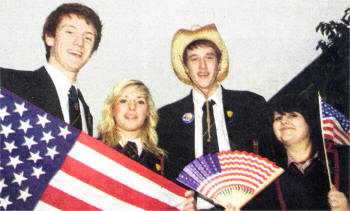 ELECTION fever hit Wallace High School last week with the Head Girl and Head Boy going head to head in a nail-biting voting battle.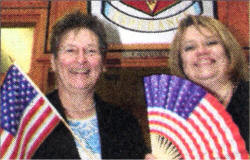 Organised by the History and Politics Department, the three week campaign echoed the style of the American election. Head Girl Claire Donaldson was up the Democrats, assisted by Christopher Tinsley whilst Head Boy Richard Johnston campaigned on behalf of the Republican Party.
Teacher Julie Dumigan explained: "Our Upper Sixth Politics students are currently studying American political system and we try to make this increasingly popular subject come alive., They have enjoyed taking part in workshops with MPs at Westminster, visiting Stormont and speed dating their local politicians.
"The two Upper Sixth Politics classes explored the policies of the American parties and then went head to head, ably led by Claire and Richard. The campaign involved advertising, hustings and songs. It really brought the entire school community together and we were delighted to see an 85% turnout ."
Lower Sixth students also played a major role, acting as official electoral officers on voting day.
The final results were announced in school assembly following a recount as the race had been so close. The margin of only four votes giving the Republicans victory may not echo Obama's landslide victory in America, but reflects the enthusiasm and passion of both campaigns in Wallace High.
Claire Donaldson said: "Whilst we Democrats are disappointed that we didn't win, the whole process certainly taught us a great deal about the power of spin. It was a great opportunity to get to know younger students and I hope that everyone in the school is more aware of active citizenship."
Chris Tinsley added: "Taking part in the election encouraged me to follow events in America more closely. I am thrilled that Obama won and feel that this election will certainly be part of history."
Richard Johnston concluded: "The past few weeks have been very exciting and I'd like to thank the school for giving us this opportunity."