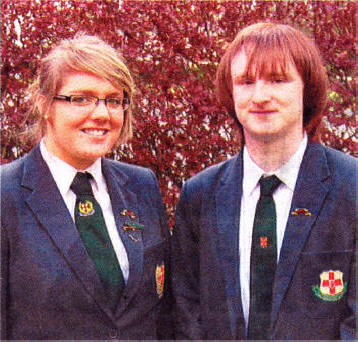 A PUPIL from Friends' School has shared her account of a visit to Auschwitz.
Lauren Barr was one of two pupils from the school who had the opportunity to participate in the 'Lessons from Auschwitz' Project - a trust which aims to increase knowledge and understanding of the Holocaust.
Last month Alan Irwin and Lauren went to Auschwitz, one of the largest death camps created during World War Two.
Year 14 student Lauren explained a week before the trip pupils from around Northern Ireland metto learn more about the project and the Holocaust. They witnessed an account from a Holocaust survivor, Ziggy Shipper who told them about his time in Auschwitz and the daily struggles he encountered.
The pupils then went to Oswiecim in Poland where they visited a Jewish cemetery which had grown into disrepair after the Nazi invasion. "When the Nazis invaded the town, they uprooted all the Jewish headstones and used them for building materials and after World War Two, these headstones had been found throughout the city and were returned to their rightful place," said Lauren.
"I will never forget the trip to Auschwitz-Birkenau.The camp was made up of 20 blocks, enough to hold 20,000 prisoners at any one time. Walking through the infamous 'Arbeit Macht Frei' ('Work brings freedom') I thought about the thousands of prisoners who had walked to their death via this gate.
"The exhibition that stood out for me was the display of suitcases, shoes, hair, glasses and prosthetic limbs which are a physical reminder of the individual prisoners who suffered at the camp. In particular the suitcases were haunting as they were marked with dates and names of the victims. Our guide pointed out a suitcase of an orphan who was three years old. This served as evidence that people of all ages suffered in the Holocaust, simply because of their religion," Lauren said.
The day finished with a memorial which was led by Rabbi Markus, the man who created the 'Lessons from Auschwitz' concept.
Lauren concluded: "The day had been a journey -literally and emotionally and one that I will never forget."