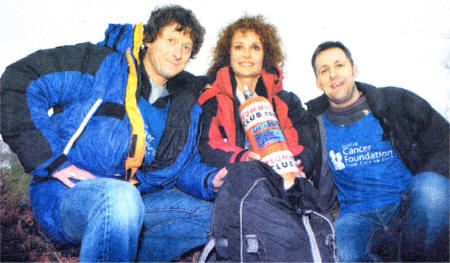 Noel, Lynne and Peter have been forced to cancel their charity expedition to Everest.
THE unstable political situation in Tibet has forced a Dromara couple to delay their dream to become the first married partners from Ireland to reach the summit of Mount Everest.
Noel, Lynne and Peter have been forced to cancel their charity expedition to Everest.
Noel and Lynne Hanna were due to tackle the world's largest peak as part of the Ulster Cancer Foundation Everest expedition, which was due to start in just ten days time.
However China has closed all routes to Everest amid unrest in Tibet, effectively cancelling the annual summiting season of April and May.
Only Chinese climbers carrying the Olympic Torch to the summit as a celebration of the Games in Beijing will be allowed to use the route.
Noel, who is a fitness instructor, still hopes the expedition can go ahead in 2009.
"We have done so much preparation for the climb and were getting ready to leave home for nine weeks" he said. "It is disappointing for everyone, especially Peter.
"We were supposed to leave in ten days time so it is hard to get back to normal again."
Noel has completed up to 30 expeditions and climbs, training five days a week spending six to eight hours at the Mournes each weekend.
Noel and Lynne will now take part in the 'Personal Everest Project', along with cancer sufferer Peter McAlinden, who was also to go to Everest, with the aim of raising £150,000 to provide a major new support programme for cancer patients and their families in Northern Ireland.
This includes providing a tailored fitness programme for cancer patients, both during and after treatment, to help reduce the debilitating effects of fatigue and enhance quality of life. It will also fund a full-time complementary therapy service to reconnect people with their self esteem and self image, which are often damaged as a result of their diagnosis and treatment for cancer.
Joyce Savage, Head of Appeals and Marketing, UCF said:
"This is a huge disappointment for Lynne, Noel and Peter, however we are grateful that our team are safe and healthy.

"They are determined to continue with their training regime in preparation for the summit attempt in 2009 and they will have even more opportunities to fundraise for UCF throughout the year."