by STACEY HEANEY
PEOPLE from the Lisburn area will have the opportunity to step back in time and learn how to trace their family tree at a special genealogy workshop organised by the Public Records Office of Northern Ireland (PRONI) and digital inclusion initiative, EverybodyOnline.
Representatives from PRONI and EverybodyOnline will be on hand in Lisburn Library on November 20 to show people how to find their roots by going online and searching through Northern Ireland's archives using the PRONI website.
Encouraging people to come along to the free workshop, EverybodyOnline Project Coordinator, Elaine Heath, said:
"Going online is a wonderful way to start researching your family history with thousands of records available at the touch of a button.
"The workshop is open to anybody with an interest in researching the past and looking into Northern Ireland's community memory.
"EverybodyOnline staff and volunteers will be on hand throughout the day to show people how to use the Internet and complete a search on the PRONI website."
The genealogy workshops in Lisburn Library begin at 11.30am and 2.00pm and last 90 minutes each.
Places are limited and booking essential.
To find out more or book your place, contact Elaine Heath on 078 2432 7427 or 028 90 236576.
New students are doing the business at Dunmurry High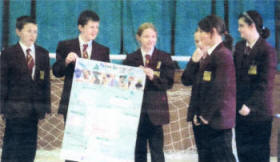 YOUNG Enterprise Northern Ireland gave students a helping hand to settle into Year 8 at Dunmurry High School at the start of the new school year.
The Big School Programme, funded by the Department of Education, is designed to help make the transition to post-primary school easier for the new students, and to make the experience a positive one.
Central to the seminar are the skills that the students will need to be successful in their new school, such as communication, teamwork and problem-solving. In addition, the new Year 8 students team up with older students so that they can learn from their experience and have a 'buddy' to call on in the senior school.
Valeria Ingram, Chief Executive of Young Enterprise Northern Ireland, commented: "Facing a new situation like this, meeting lots of new people and understanding different expectations can leave students isolated and nervous at the prospect. Big School offers students the opportunity to overcome their fears, make new friends and meet older students who have experienced the transition."