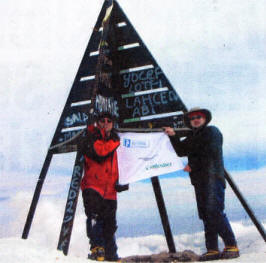 A LISBURN man has climbed the highest mountain in North Africa to help raise money for charity.
Roger Duncan, 32, and his friend Simon Ball from Portglenone, embarked on the expedition in Morocco in March.
The men, who are keen climbers, trekked for 22 hours out of 48 and got to the summit of Jebel Toubkal at 2.15pm on March 19.
Roger, who works at the Lisburn Campus of the South Eastern Regional College described his adventure: "It was a hard trek through ice and snow, but the jubilation of reaching the summit made up for the hard slog we had Dyer two days up the mountain. We carried over 22kg each to the summit and met our goal of :climbing unassisted there, although we did get the odd
strange looks from the local porters who kept on offering us the option of having them carry our packs for a small fee.
The local people of the Atlas Mountains (the Berbers) were most hospitable and could not have been more friendly to us, and welcomed us into their homes and gave us copious amounts of mint tea but they did try to sell us everything under the sun — for a reasonable price."
In total the men raised over £2000 for their chosen charities, Autism and the Scout Hall in Hillsborough.
"Both ourselves and our respective beneficiaries are very grateful to the generosity of everyone who pledged money to us for our trek. As for our next fundraiser, I am going trekking in the French and Swiss Alps in August, and who knows for next year, have not decided upon it yet," said Roger.