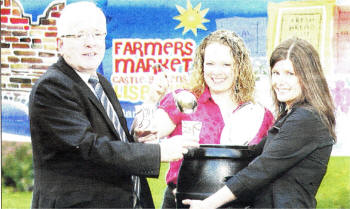 LISBURN City Council is to host the first ever Farmers' Market in the city next Saturday (October 18) at Castle Gardens between 10am and 4pm. Councillor Allan Ewart, Chairman of the Council's Economic Development Committee said: "I am delighted that we are introducing a farmers' market to the gardens.
The people of Lisburn will have the chance to buy good, wholesome produce direct from source and also have the opportunity of speaking to the producers themselves.
"The market will also be an important attraction for visitors into the city, particularly given its central location in Lisburn Historic Quarter. The atmosphere that the market will create should ensure it becomes an enjoyable new feature for the city and visitors will also have the opportunity to see the beautifully restored gardens when they are there."
Sharon McMaster of Soupernatural, who along with her sister Kathy will be selling their soups made with fresh local organic ingredients, added: "People want to have access to fresh produce and this is exactly what the Farmers' market will offer. Local farmers and specialist producers will take part in the market.
A traditional range of produce will be on offer from meats, cheeses, fish, bread, home baking, pasta, organic vegetables to plants, jams and fresh juices.
"All the produce will be of the highest quality and will offer good value for money. it is very much about social interaction and enjoying the experience of selecting the food.
"On the day there will be craft workshops and face painting for the kids. Local well-known artists Mark Graham and Mike Mormecha will also entertain visitors with the sound of their original music. We are encouraging everyone to come along, purchase some of the products, eat them there or take them away and enjoy what should be a great day out."