by JULIE-ANN SPENCE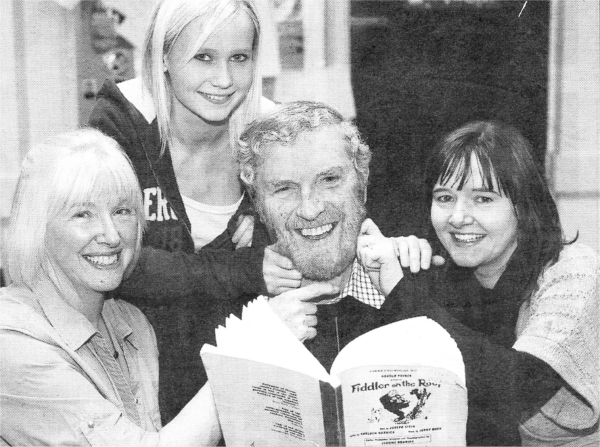 Lisnagarvey Operatic Society's rendition of 'Fiddler on the Roof' performed by Heather Campbell as Golde, Laura Higginson as Shprintze, Roy Mcllwrath as Tevye, and Judith Hall as Hodel. US1008-410PM Pic by Paul Murphy
LISBURN'S always popular, award winning musical society, Lisnagarvey Operatic Society will be treading the boards once more, when they stage `Fiddler on the Roof' at the Island Arts Centre on April 8 - April 12.
`Fiddler' is set in the pre Russian revolution era at the beginning of the 20th century and the story broadly deals with the conflict of the traditional versus the modern and the evection of the Jews from their homelands.
The main character Tevye, a milkman, with five daughters finds himself in particular traditional versus modern conflicts surrounding marriage when two of his daughters opt to marry outside the tradition and one goes even further by marrying outside the 'faith'. The show is a beautiful mixture of pathos and comedy with many hit musical numbers including 'Sunrise Sunset', 'Sabbath Prayer', 'Matchmaker', 'Miracles of Miracles', 'Far From The Home 1 Love' and of course the hit song of the show 'If I Were A Rich Man. Lisnagarvey's Chairman, Roy Mcllwrath will be taking on the
lead role of Tevye, with Heather Campbell as his wife Golde. Gillian Algie, Judith McKee, Louise Lemon, Laura Higginson and Farah Hughes play Tevyes daughters and Liz Pentland takes on the role of the Matchmaker. Other cast members include Motel (The Tailor) Andrew Scott, Perchik (A Student) Simon Cunningham, Lazar Wolf (The Butcher) Robert Cully, Mordcha (The Innkeeper) Tim Pentland, Mendel (the Rabbi's Son) Rae Campbell, Fyedka -David Gray, Rabbi - Victor Berry, Constable - David Mehaffy.
The show opens in The Island Hall on Tuesday April 8 and runs till Saturday April 12.
For further information or to book tickets, priced £12/£10, contact the Island Arts Centre Box Office on 9250 9254.