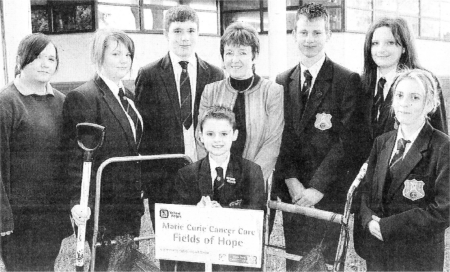 Marian Getty, principal, and Katrina Hawthorne, Amy Nixon, Nathan Stewart, Kurtis Dickson, Lloyd Gillespie, Emma Carlisle and Amy Walton, pupils at Forthill College, get ready to plans 'bulbs at the school to raise funds for Marie Curie Cancer Care as part of Forthill's 50th anniversary celebrations. US4208-531cd
THIS year marks the 50th Anniversary of Fort Hill College.
And to celebrate this milestone a number of special events will be held over the coming months.
The celebrations commenced this week with the planting of a 'field of hope' for the Marie Curie Cancer Foundation.
Principal Mrs Marian Getty explained: "This week starts our official launch of the celebrations and what a better way to start than with the planting of a 'Field of Hope' for the Marie Curie Cancer Foundation.
"In Miss Gray's very first foreword in the first school magazine she talked of a school where pupils would always support others and look beyond their individual circumstances. I am delighted that we still have the same caring approach and a field of golden daffodils to show our support of others is a fitting start to a special year."
Mrs Getty, the third principal of the school described the anniversary as " special" for so many people in the Lisburn Community and beyond.
She said: "I have had the great privilege of leading Fort Hill Integrated College for the past six years. Prior to that Miss G. Tigchelaar was the 'boss' for 19 years and before her was of course the founder principal of Fort Hill Girls High School - the late Miss MJ Gray. "Having worked with both ladies I can honestly say that although the school has experienced several name changes since that first year, that the ethos remains unchanged. We remain committed to the young people in our care and aim to support them at every level - physical, emotional, social and academic."
Other special dates include a special thanksgiving Service and Carol concert in Lisburn Civic Centre on Wednesday December 17 and an open day on January 30 when people can take a walk down memory lane and meet old school friends and staff. In May a celebration dinner will be held in the Dunadry Hotel and Country Club.
If you have any articles, photographs or stories of interest that would help with the school's displays please send to the Fort Hill College, Belfast Road, Lisburn BT27 4TL or email info@forthill.lisburn.ni.sch.uk. Include your name and address' so that any items can be returned safely.