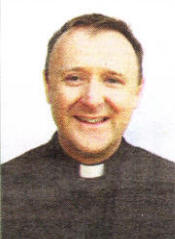 HANNAHSTOWN parish priest Fr David DeLargy, part of trio group The Priests, is hoping to make the No 1 slot in the album chart this Christmas.
The Priests, who consist of brothers, Fr Eugene and Fr Martin O'Hagan signed a Elm record deal with giant Sony BMG earlier this year and have just released the album which includes Ave Maria, and Holy Night.
It is the first CD release by The Priests, as they have been called, and is already being cited as a possible Christmas number one. It has been released in a staggering 32 countries, including the United States, Mexico, Brazil and Australia.
They worked with Mike Hedges, who has also worked with the likes of U2 and Welsh rock group Manic Street Preachers.
Earlier this year Epic Records, a division of Sony, scoured Europe for clergymen to record a Latin Mass album.
Word of mouth led them to the trio, who started singing together 35 years ago at a Belfast boarding school, St MacNissi's College, where they were nicknamed 'Holy Holy Holy' for their religious fervour.
They completed their seminary training together at the Gregorian University in Rome, and as active priests took posts up in the diocese of Down and Connor.
The Priests signed with Sony in April and in September, recorded a concert at Armagh Cathedral.
Local bookies Paddy Power dramatically slashed the odds that the album will reach No:1 from 40/1 to 20's. And along with the odds being slashed in the UK, 'The Priests' have gone from 10/1 to 4/1 for the No:1 album at Christmas in Ireland.
Patrick Tohill, spokesperson for Paddy Power, said: It would be great to see a local band reach the No:1 spot this Christmas. But with X-Factor releasing their single for the Christmas No:1 race it could take some divine intervention for 'The Priests' to reach the top spot.'