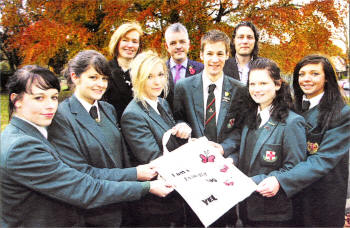 SIX upper sixth pupils from Friends' School have been selected as regional finalists in their age category in a competition called 'The Big Idea'.
The competition involved pupils coming up with an enterprising and profitable idea which would benefit the local community.
The young entrepreneurs were invited to the grand final awards lunch at the Culloden Hotel, Cultra. The event, hosted by Mylene Klass, was organised in conjunction with Invest Northern Ireland and was a huge success, with the finalists of all age groups present.
The Friends' team and their Big Idea of an environmentally friendly bag, faced opposition from RBAI, Abbey Christian Brothers Grammar school, The Ballynahinch Group and Thornhill College, Derry.
The ideas were judged by global panels of judges in Dublin, London, Dubai, Boston, Shanghai and Belfast, with Friends' coming second by a single point. This was a huge achievement, considering there were fifty-two entrants in this category.
Despite this setback, the pupils have been inspired to continue, with the competition having given them the opportunity to meet Peter Jones (of the BBC's Dragon's Den), and Mylene Klass (of I'm a Celebrity Get Me out of Here).
In addition, as regional finalists, they have been awarded £1000 which will be used to further their distribution of environmentally friendly bags.