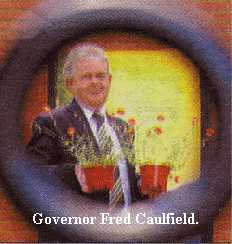 GREEN-fingered inmates and staff from Maghaberry Prison are competing for the first time at the Garden Festival at Hillsborough Castle this weekend.
They have designed and constructed an imaginative 'Garden of Release', which reflects the journey faced by prisoners throughout their sentence. And Governor Fred Caulfield is hoping this new venture will help plant the seeds of rehabilitation for the prisoners involved.
"The vast majority of our work in Maghaberry is geared towards preparing prisoners for their eventual release into the community. This involves getting prisoners to come to terms with their offences and to teach them new skills" he said.
"The work in designing and creating a garden from scratch has helped to unlock their creativity and develop new
skills, while at the same time reflecting on the challenges of prison life."
The new garden depicts a typical journey through a prison sentence.
There is a section with softer aromatic plants, which reflect the prisoner becoming used with prison life, progressing through the stages of rehabilitation towards life on the outside.
A sun dial in the centre represents the passage of time, while a number of paths represent the different ways that prisoners can do their time. At the end of the garden are open gates and a painting of a sun-kissed beach symbolising freedom.
Gates and other garden furniture have been made by prisoners, while the prison's Braille Unit has supplied signs to help visually impaired people identify flowers and plants within the garden.