by MARY MAGEE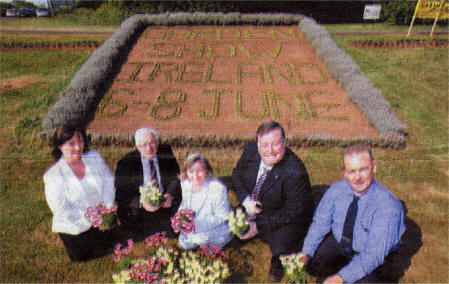 With Lisburn City Council's floral badge promoting the Garden Show Ireland 2008 are Event Organiser Karen Williams; Chairman of the Economic Development Committee ClIr Allan Ewart; Hillsborough District and Village Committee Secretary Nessa 0' Callaghan; Chairman of Environmental Services Committee Ald. Paul Porter and Lisburn City Council's Parks Officer Mark Gregg.
THIS eye catching floral display is reminding everyone - not that you need reminding - that the Garden Show Ireland 2008 takes place this weekend and runs from June 6 to 8.
Staff from the Parks' section of Lisburn City Council have been working hard to get the display ready for the event which is returning to Hillsborough Castle grounds for the second year running.
Chairman of Environmental Services Committee, Alderman Paul Porter said: "It is just one of the many floral displays being created throughout the City The Garden Show Ireland provides a platform for the Council's gardeners to showcase their more creative displays including the bugler, horse and cart and the train.
The Council's team of gardeners are highly skilled and thanks to them our City comes alive with colour every summer."
Chairman of the Economic Development Cus-0606-47 - 0 4 0 6_1 7 0 6 1 9 committee, Councillor Allan Ewart said:
"This event, showcasing horticulture at its finest, will bring a vast number of visitors to Hillsborough. With the current spell of good weather I am sure visitor numbers will be up on 2007's 30,000. Garden Show Ireland is open from 10am - 8pm today and from 10am - 6pm on tomorrow (Saturday) and Sunday (June 8).