MARY MAGEE REPORTS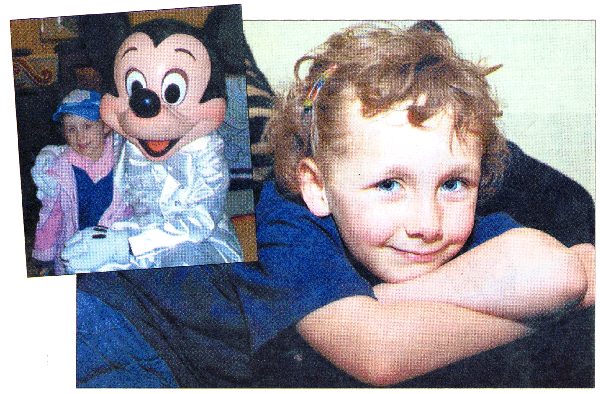 ABOVE: Georgia relaxing back home after her dream trip to Disneyland Paris. US1608-109
INSET: A picture to treasure as Georgia dressed up as a princess to help Mickey Mouse switch on the lights at the theme park.
A SIX-year-old Maze girl who had a bone marrow transplant last April has had her dream of becoming a princess come magically true. Georgia Cocking, who suffered from Acute Myeloid Leukaemia, was given star treatment when she and her family went on a holiday to Disneyland Paris. Little Georgia was dressed as a princess and helped Mickey Mouse turn on the lights as part of the 'Canderation Ceremony' at the Disney Castle in front of 1,500 people.
The dream trip for Georgia - along with her mum, dad and brother Liam - was organised by Starlight Children's Foundation which grants wishes for seriously ill children.
It's a busy time for Georgia who in June will be starring in a huge fundraising event for the Anthony Nolan Trust which played a vital role in finding her a donor. She will be rubbing shoulders with the cast of Emmerdale at the fundraiser in the Ulster Transport Museum in Cultra which will be followed by a ball at the Culloden Hotel on Saturday June 7.
And her mum Debbie and grandfather Bob Parks will be taking part in an abseil for the Trust.
Despite everything going so well, Georgia recently had a slight setback when a leukaemia gene was found in her system during a routine test. However, it was located quickly and eight weeks ago was treated with a lymph infusion and she is again back on the road to recovery.
She continues to have her blood checked and is still closely monitored when she attends the Royal every fortnight.
Georgia, who has joined an Irish Dancing School and is now a member of a drama group, is proving an inspiration.
Her mum Debbie said of the Disney trip said: "Nothing better or more perfect could have been organised by Starlight who really took Georgia's dream and brought it to life. Her wish gave us a rare and wonderful opportunity to spend fun, worry-free time together.
"She is looking forward to the fundraising event in June to support the Anthony Nolan Trust which relies on fundraising events like these. It is the first time this event has been held in Northern Ireland. It only takes £70 to search for a bone marrow donor so money is important."
Debbie said that despite Georgia's recent hiccup she is continuing to thrive.
She said: "She went for her her first hair cut last week since her treatment began last year. Her lovely blond hair is now now brown and curly.
"She continues to have lots of energy and she has a real zest for life. I don't think that she realises just how lucky she was."
Anyone wishing to make a donation to Starlight can ring 020 7262 2881. If you would like to help the Anthony Nolan Trust log onto www.anthonynolan.org.uk