Gerard scoops top award at Liverpool awards ceremony
by NEIL GREENLEES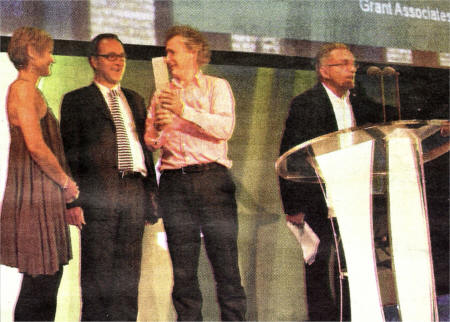 Gerard Mccreanor receives the Stirling Prize in Liverpool last Saturday evening.
MILLIONS of television viewers have seen a former pupil of Friends School being presented with the UK's most prestigious prize for architecture.
Gerard Maccreanor, who grew up in the Ballymoat area of Glenavy, received the Royal Insititute of British Architecture's 'Stirling Prize' on behalf of his practice 'Maccreanor Lavington'.
The presentation took place at a glittering ceremony in Liverpool's Arena and Convention Centre screened live on Channel Four.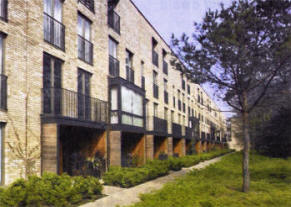 The £20,000 award recognised the high standard of the firm's designs for part 01 a new housing development in the university city of Cambridge called 'Accordia Living', the first ever residential scheme in Europe to win the prize.
The innovative project by Redeham Homes beat off stiff competition from five other Schemes including the Manchester Civil Justice System; the Royal Festival Hall in London; Westminster Academy; Bijlmer Station in Amsterdam and Austria's Nordpark Cable Railway. The Award Jury, made up of architecture specialists and lay judges described it as 'high density housing at its very best'.
They said it demonstrated volume house-builders 'can deliver high quality architecture' — and as a result "can improve their own bottom line.
Mark Bailey, Managing Director of Redeham Homes said: "We are thrilled that Accordia Living has been acknowledged as the first ever residential development in the Award's history recognised for its innovative design which fuses together top quality layout, specification and landscaping to produce a variety of inspirational homes appealing to a wide range of people from investors and young-professionals to families." Mr. Maccreanor, who left Friends in 1980, has been an architect for 25 years.
His wife is Dutch and he lives in Rotterdam but commutes between the Netherlands and his company's London office several times a week.
His parents Cathleen and Patrick Maccreanor still live in Glenavy as does his sister Catherine Gallagher.