by JENNY MONROE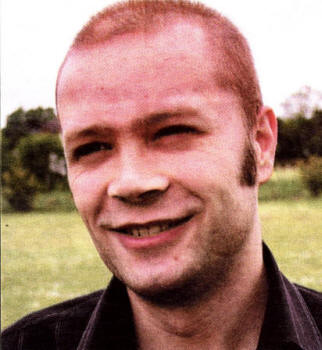 Gareth Orr has joined Northern Ireland sporting heroes this week to encourage Northern Ireland men to 'Get A Grip' as part of a local cancer charity campaign.
A MAGHABERRY man is encouraging local males to 'Get A Grip' as part of a local cancer charity campaign.
Gareth Orr, 26, is only too pleased to help Action Cancer launch their annual Action Man Campaign this month, encouraging men to become more proactive with their health in a bid to reduce incidences of cancer and save lives.
Gareth was diagnosed with testicular cancer in 2004 and is glad to be able to help support the campaign.
And he admitted men's low embarrassment threshold often means they put off going to the doctor, even when they suspect something is wrong.
"Through embarrassment and denial I put off going to the GP and was eventually forced to due to the pain I was in" he said.
"If I had left it another two or three weeks I would only have had a 50/50 chance of survival so I would encourage people to go immediately to their GP "Thankfully I survived and was extremely fortunate to have a son less than a year ago so it doesn't have to be as bad as you perhaps imagine - the important thing is to act immediately."
Geraldine Kerr, Head of Professional Services with Action Cancer said: "Late detections have an impact on survival rates so our Action Man Campaign is important in trying to change the mindset.
"We would encourage men and influential female family members to 'Get A Grip' - visit the Action Cancer website, download the information leaflets and mark Men's Health Month by booking a male MOT onboard our Big Bus."
A tag rugby fundraising event, as part of the Action Man Campaign, will help the charity get the message out among males and encourage a healthy lifestyle which can help to prevent cancer. The charity is currently taking in applications for teams for the tournament which takes place on July 26 and will involve 24 teams with seven players and a maximum of five substitutes. Each participant will be handed a goody bag which will also include Information leaflets on prostate and testicular cancer.
FACT: Action Cancer offer MOT health checks for men, a comprehensive assessment measuring skin analysis, cholesterol, blood pressure, lung capacity and Body Mass Index. It also offers advice and information on male specific cancers, self examination and lifestyle changes which could prevent 80% of cancers. Anyone interested in obtaining a MOT appointment or applying for the Tag Rugby event should call 028 9080 3344.