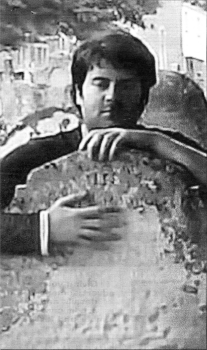 Jonathan McMurray prepares for his ghost tour of Lisburn.
LOCAL man Jonathan McMurray is calling on local people people with a ghostly tale to tell to get in touch.
Jonathan is planning to start ghost tours of the city and he is keen to here of any ghost stories that people would like to share.
"I am asking the people of Lisburn to contact me with stories about the (supposedly) haunted sites in the city centre and beyond, especially if they worked in these buildings, or have had direct experience of something strange and unexplainable there," he explained.
"I anticipate that the most haunted places will be the Union Bridge / civic centre area, Bridge Street, the Irish Linen Centre and Museum and perhaps Wallace Park.
"These all tie into Lisburn's very rich cultural and civic history, which is surprisingly bloody with plenty of wars, executions and upheaval.
"It's a very interesting and important part of Lisburn's past, a great community project and an exciting new angle for Lisburn tourism," he added.
Anyone who has a ghostly tale to share can contact Jonathan via the website - www.hauntedlisburn.com - or telephone 07527986920.