by JULIE ANN SPENCE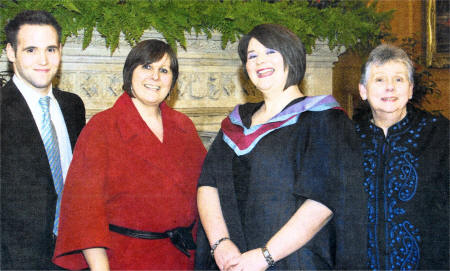 MEd Graduate Gillian McLea with her brother Mark, sister Jacqueline, and mother Ann McGarry.
A LISBURN woman has overcome personal tragedy to graduate from Queen's University today with a MEd in Educational Management.
Gillian McLea, a teacher at Wallace High School better known to her students as Ms McGarry, completed her Masters degree despite the sudden death of her husband in 2007 and that of her father earlier this year.
Receiving her degree, Gillian said: "I was extremely proud of my husband Paul when he graduated from Queen's in July 2007. At that time I was already studying for my Master's and was looking forward to completing my course and sharing another graduation day with him.
"Unfortunately Paul died very suddenly in October 2007, just as I was starting work on my dissertation. My tutor, Dr Billy McClune, and all the staff at Queen's School of Education were amazingly supportive. After taking a short break from my course, I returned to Queen's in January 2008 where I found that my studies gave me a real focus. My father's sudden death in February was another major setback, but with Dr McClune's guidance I got back on track and was able to complete the course. I've since been busy setting up a support network for others here in Northern Ireland who have been widowed at a young age, as well as setting up the first NSPCC/Childline Tribute Fund in the United Kingdom in Paul's memory. Paul was an officer with the PSNI's e-crime unit and this charity was very close to his heart.
"I am delighted to receive my degree and, while it is very difficult to graduate without Paul, it brings back fond memories of our time together at his graduation day. He was extremely supportive of me during my studies and I'm sure he'd be proud of what I've achieved.
"I would like to say thank you to the staff at Queen's, my family and friends and my colleagues at Wallace High School for their constant support."
Ulster Star
19/12/2008