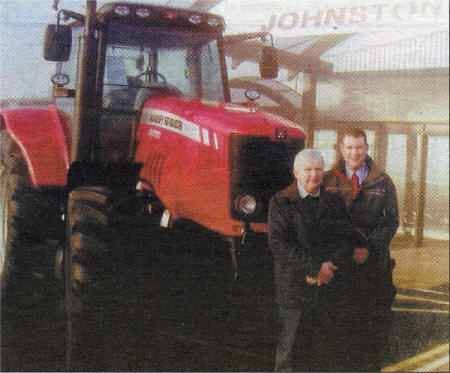 Alan Ross, Chairman of Glenavy and District Vintage Club and Stephen Lewis Agricultural Sales Executive for Cyril Johnston and Co. Ltd of Carryduff at the launch of the Club's Charity Indoor Show.
A TRULY 'grand old lady', who travelled half way round the world at the age of 80, will take centre stage at the forthcoming charity indoor show organised by Glenavy and District Vintage Club.
The 11,000 mile trek from Peking to Paris lasted five weeks but there's no doubt she'll still look her best for the event which takes place next Friday and Saturday (March 7 and 8).
The mature lady in question is a 1927 Rolls Royce owned by Denis Wilson who operates a tool and equipment store in Glenavy.
Last Spring he drove the magnificent vehicle from the Chinese capital to the French 'City of Light' with his wife Jill acting as navigator.
It's unlikely Denis will need a navigator to get from Glenavy to Trummery Sales Arena where the Vintage Show takes place.
But there's no doubt the chance to view the car will attract visitors to the event which will run from 4pm to 9pm on Friday and 10am to 4.30pm on Saturday.
The Rolls Royce will be joined by a wide range of vintage and classic tractors, lorries, cars and motorcycles.
A number of new tractors will also be on display and there will be a good variety of items for sale in the auto jumble.
The main sponsor of this year's show is Cyril Johnston and Co. The event will feature a display entitled
'50 years of Massey Ferguson' and the Carryduff company is one of Northern Ireland's main Massey Ferguson dealers.
Owners are welcome to display their vintage or classic tractors and vehicles at the show.
However, space is limited and those wishing to do so are asked to contact Mark Anderson to book a place on 07749 211818.
All exhibits must be in position not later than 9pm on Thursday. Owners should be aware security will be provided on both Thursday and Friday nights.