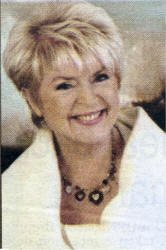 WELL known personality Gloria Hunniford will be in Lisburn next Monday for the signing of her latest book 'Always With You' at Eason's, Bow Street at 12.30pm on December 8.
Gloria's first book 'Next To You' was published in 2005 and tells the profoundly moving story of her daughter Caron Keating's battle with breast cancer.
Her latest book has been written in response to the many thousands of letters she has received from readers of the first book and looks at Gloria's own battle with 'facing life after loss'.
On April 13, 2004 Gloria Hunniford's 41 year old daughter, Caron Keating, died after a secret seven year battle with cancer.
Within days of Caron's death, letters started to arrive. People who had lost their children themselves felt compelled to write.
Her latest book tells the story of how Gloria and her family survived Caron's death. It is written for all those who helped her through that first terrible year by writing, but mostly it is written for the many thousands who didn't.
Gloria was the first woman to have her own daily radio show on BBC Radio 2, which she presented for 12 years until 1994. She also had her own television chat programme, Sunday Sunday, on London Weekend Television and appeared on and presented on numerous shows.
Gloria's family set up a fund in her name - The Caron Keating Foundation - which gives grants to all types of cancer charities.