| | |
| --- | --- |
| | |
| Aidan Frazer and Thomas O'Reilly working diligently in P2B. | Father Eamonn McGorrian, the school Chaplin, attends to the pastoral needs of pupils and staff and plays an active role in the sacramental preparation of the children. |
Principal delighted as report praises `dedication' of teaching staff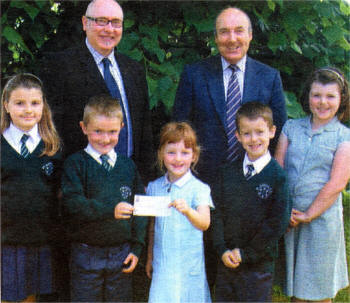 Emma Frazer, Connor Brennan, Frances Arnott, Matthew McMahon, Victoria Lee along with Mr McClean present a cheque to Paul Kane of Trocaire as part of St. Aloysius ongoing charity fun raising. A total of £5,000 was raised during Lent 2008.
THERE was delight for staff and pupils at St. Aloysius Primary School recently when they received a glowing inspection report which praised "the high quality of education" provided by the school and Nursery Unit. Inspectors recognised the "very caring and supportive ethos within the school", "the high quality of pastoral care provision", "the very good leadership of the principal" and "the dedication and approachability of the staff."
The children were warmly praised for their "exemplary behaviour, enthusiasm, positive attitudes and their high standards of achievement." The Principal, Mr Patsy McClean, said he was delighted with the report. "Since our last Inspection Report we have striven to maintain the highest of standards. Each and every member of the St. Aloysius School family can be extremely proud of such an outstanding report" he said.
The Nursery Unit in the school came in for equally high praise with the Inspectors commenting on, "the high level of parental satisfaction with all aspects of the Nursery Unit's work." The report concluded, "the parents and local community can have confidence in the school's capacity for sustained self-improvement."
Mr McClean paid tribute to all members of the school community, stating: "We are all delighted with such an outstanding report which recognises our commitment to the ethos and spirit of our school.
"The dedication of all the staff, the exceptional support of parents and the exemplary behaviour and high achievements of our pupils have enabled St Aloysius Primary School to maintain the highest of standards and retain that sense of family and community that means so much to us all."
| | |
| --- | --- |
| | |
| Mrs Una Tracey (Teacher of the Year runner up) has developed the highly acclaimed orchestra and school choir, who regularly perform in the City of Lisburn. | Children from St. Aloysius PS are encouraged to join the early morning Library Club which opens at 8:15am. |