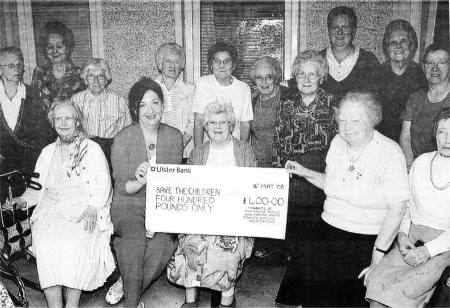 Mandy Wilson and Hazel Boomer from Save The Children Lisburn Branch receive a cheque of £400 from Tenants of Old Manor House and Manor Drive raised in the Save the Childrens Go Tea Potty Initiative. US2108-107A0 Picture By: Aidan O'Reilly
THE Lisburn branch of Save the Children has teamed up with M S Lisburn and M & S Bow Street Mall to help children in dire need.
Save the Children's volunteer branches across Northern Ireland organised tea parties and M & S supplied fair trade tea and coffee. The Lisburn branch volunteers ran a number of 'Go Tea-Potty' tea parties and raised the magnificent sum of £1,451.
"This was a thoroughly enjoyable yenture and we would like to thank M & S and our very generous friends and supporters," said a spokesperson for the branch.
Supported
On top of this the following sheltered housing associations supported the initiative: Blaris Fold - £200, Belsize Fold - £95: Harmony Fold - £110; Hillside Fold - £133 and Old Manor House - £400.
A number of volunteers helped to bag pack in the new M & S Bow Street Mall on Saturday 3 May and collected £21C and a street collection in Lisburn City centre on Tuesday April 29 raised a total of £905.63.
The Lisburn branch would like to thank the residents and visitors to Lisburn for their continued support. All monies collected go to emergency world disaster relief. Save the Children work with children who suffer from poverty, disease, injustice and violence.