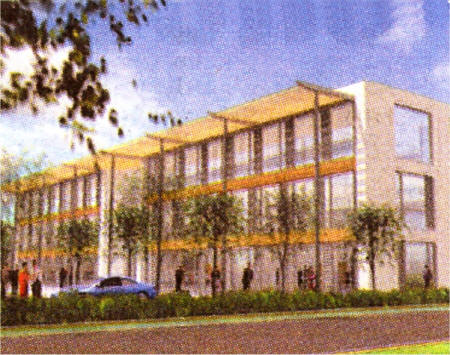 A sign of the future ... The proposed front of the new Graham Development's site in Hillsborough.
LOCAL construction company Graham Developments have been given the green light by planners to complete their £10 million move to Hillsborough.
The company can now begin their plans to relocate from Dromore to the Ballygowan Road, just off the Al on the site of the former Kemira
Fertilisers plant, after they received planning permission at the March meeting of the Planning Committee.
The project, which is part of a larger £55 million regeneration scheme for Hillsborough and Dromore, will see Grahams developing a new state of the art headquarters at the site which will create more jobs in the Lisburn area. Councillors welcomed the approval for the project at the recent Planning Committee meeting.
Speaking at the meeting the Mayor, Councillor James Tinsley commented, "I welcome the approval for Grahams. This will bring a lot of investment and jobs to the area, this is good news of the city."
Speaking about the project at the Planning Committee meeting last year, Michael Graham, the Executive Chairman of Graham Developments, said: "The most important thing to note is that the £10 million investment by Grahams will effectively be creating and retaining over 200 jobs in the Lisburn area. We will inevitably be continuing ongoing training and investment and as the business continues to grow, additional employment will be created." The company's current site in Dromore will be redeveloped with 300 residential units, 9000 sq. ft. of retail/commercial units, riverside walkways and associated environmental landscape improvements. The £45 million scheme is set to regenerate the centre of Dromore.