by JENNY MONROE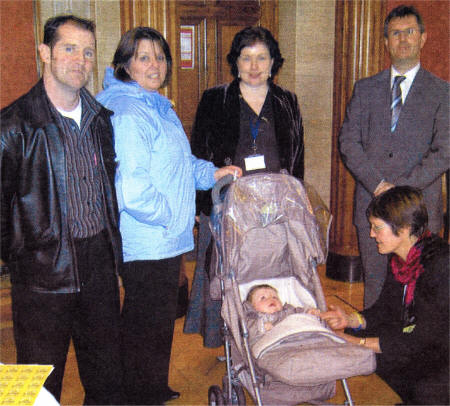 Jeffrey Donaldson MP, Jane Plumb (Group B Strep Support), Michael and Louise Rice and their son Oliver (who developed GBS infection at birth) and Susan Kyle.
THE campaign to pre vent Group B Strep infection (GBS) in babies got a helping hand this week when Lagan Valley MP Jeffrey Donaldson co-hosted an event to raise awareness.
Mr Donaldson and Dr Alasdair McDonnell jointly led the campaign at Stormont in a bid to bring attention to the need to help save babies' lives by making sensitive testing for group B Streptococcus (GBS) available to all pregnant women on the NHS.
Mr Donaldson commented: "Northern Ireland has the highest rate of GBS infection in babies in the UK. Group B Strep causes many families unnecessary distress and heartache every year. We in Northern Ireland have the opportunity to lead the way in the UK by raising awareness of GBS and introducing screening to protect our babies from this devastating and preventable infection."
Maghaberry woman Susan Kyle, a supporter of Group B Strep Support (GBSS), was one of the organisers of the event. Susan found she carried GBS during her second pregnancy but had the recommended antibiotics in labour and her baby was born healthy.
She said: "Every mother should have the right to protect her baby from this deadly, but preventable, infection. In many countries - Canada, France, Italy, Australia and the USA to name a few - testing for GBS is a routine part of antenatal care. Northern Ireland cannot ignore its high infection rate and can set a precedent for the whole of the UK by making reliable testing for GBS freely available to all pregnant women."
Guest speakers Jane Plumb, Chairman of GBSS, and Prof Philip Steer, Professor of Obstetrics at the Chelsea & Westminster Hospital in London, addressed an audience of MPs, MLAs, health professionals and families affected by group B Strep.
Professor Steer said: "GBS infection can usually be prevented by giving antibiotics during labour to women whose babies are most at risk.
All expectant mothers should be given the opportunity to take a simple swab test and find out if they are carrying GBS; this knowledge could save their baby's life. At the moment, lives are being lost needlessly."
�For more information about GBS, contact Group B Strep Support, tel: 0870 803 0023 or go to www.gbss.org.uk