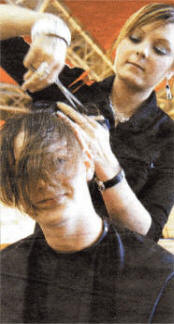 IT was a close shave for David Brady on Saturday May 17 when he shed his treasured locks - all in the name of charity.
David, who works at the Currys store at Sprucefield, has been growing his hair for the past four years and it is his crowning glory.
But he decided to go for the chop to raise money for Marie Curie Cancer Care, the charity that nursed his uncle in his final days.
"I can't praise the Marie Curie nurses enough and to mark my appreciation I wanted to raise money to help them continue with the caring service to those in the same situation I found myself in," explained David.
David had been growing his hair for four years and he was nervous about losing his crowning glory, but once the big moment came he simply reminded himself it was all for a good cause.
"In all honesty I'm quite pleased to get my hair cut even though I did cherish it for a very long time" he admitted.
All Saturday morning I was calm but as 4:30 got nearer I felt like a kid going to school for the first time, I had butterflies and was feeling the heat.
"I just kept reassuring myself everything was going to be grand and at the end of the day it was for a good cause."
Thanking everyone for their support, David added: "There are plenty of people to thank, starting with the hairdresser Emily for doing a wonderful job. And I'd also like to thank my colleagues at Curry's and family for their support and donations. Thanks as well to Phil Kane and the Marie Curie Cancer Care Team for all their support."
David after his dramatic haircut for charity, and how he looked before.