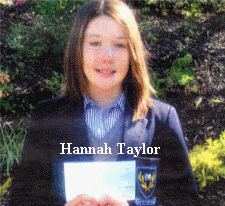 A PAINTING depicting a young girl's love for her family has taken top prize in an art competition entitled You Can Change their World' organised by Lisburn's Community Safety Partnership.
Hannah Taylor's watercolour was inspired by the quality time she spends with her family and depicts the Taylors enjoying a ride on a log flume.
The Year Eight Laurelhill pupil said her family were of the 'utmost importance' to her.
"I believe parents should spend quality time with their children and I am grateful my parents strive to spend quality time with me," she added.
Hannah's artistic skills earned her a £150 cheque. A Laurelhill spokesperson congratulated her on her success and said students and staff were looking forward to seeing more of her inspiring paintings' in the future.