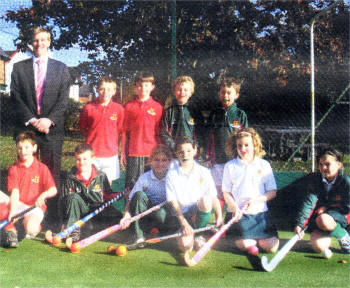 STAFF and parents at Friends' Prep joined Jamie Oliver in his "pass it on" healthy eating campaign during their Healthy Eating and Fitness Week.
This year all activities and work were centred on the Olympics.
There was great excitement when pupils and staff were joined by Olympic Gold medal winner Jimmy Kirkwood. Pupils were delighted to hold an actual Olympic medal!
As the proceeds from Fitness Week were going to the NSPCC pupils took part in a heptathlon—the Olympic version of Wills Worthy Workout!
Old Scholar Greg Thompson, who at the age of 16 was the youngest person to gain an Irish cap, coached all Prep
classes in cricket. Greg currently plays for the Senior Irish team and this year will captain Lisburn.
The Olympic week drew to a close on Friday with a special closing ceremony.
As a final treat pupils enjoyed a Judo demonstration by Ross Scott who, as a member of the Northern Ireland Judo team, is preparing for the Commonwealth Games and Olympics in 2012.
Following this 36 pupils were taken to the NI International Horse Show at the Odyssey Arena. Tickets were provided by the NSPCC to thank Prep pupils and parents for their support this year.