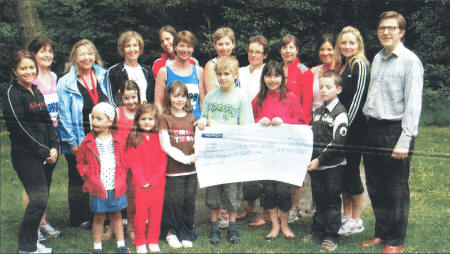 Some of the Hillsborough ladies who raised money for Ulster Cancer Foundation and War on Want, with their children, presenting a cheque to Eamon Quinn from War on Want.
A GROUP of 25 friends from Hillsborough took part in this years Belfast marathon in a bid to raise money for charity.
The group successfully completed the run and raised £4,107.
Ten people from the group decided to do the challenging nine mile walk and the other 15 entered the race in the form of three relay teams running distances of three and a half to seven miles each.
Eamon Quinn from War on Want and Neil Granger from Ulster Cancer Foundation were delighted to have such enthusiastic people fundraising on their behalf.
Mr Quinn said, "Since it was formed in 1961, War on Want NI has relied on the commitment of people such as this dynamic group from Hillsborough to raise funds to support projects that make a difference to people in some of the poorest communities in Africa. The result of their hard work and efforts is that some of the most vulnerable people in Malawi, Uganda and Tanzania will be able to take more control over their lives. We would like to thank these volunteers for their excellent work and for helping War on Want NI change lives overseas."
Thanks to the generosity of families, friends, local people and Hillsborough businesses the fundraising events leading up to the marathon were well supported. Two of the many activities included a morning stroll in Hillsborough Castle gardens and a summer wine tasting evening in Hillsborough Village Centre, hosted by Harry's Road Fine Wines.
The group have now set up a running club. If you are interested in joining contact either; Hillsborough Village Centre on 92 683015 or Karen Hewitt on 07711907871.