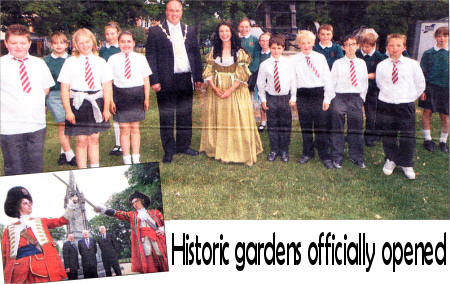 Above: Mayor lames Tinsley and Angela Beggs from The Irish Linen Centre, Lisburn at the opening of Castle Gardens with Brownlee and Fort Hill Primary pupils. US2508-531C0
Insert: At the official opening are (back: 1-r) Mr Colin McClintock, Director of Environmental Services; CIIr Allan Ewart, Chairman of Economic Development Committee, Lisburn City Council; Mr Norman Davidson, Chief Executive and (front) two Cavaliers from the Traditional Archery Society who took part in the Duel re-enactment of 1677.
---
THE newly restored and refurbished Castle Gardens were officially opened this week, and it was a case of 'swords at dawn' for the grand opening.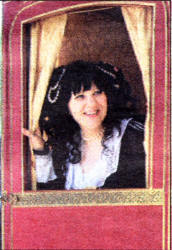 Emma Briggs, in a traditional form of transport for ladies, the Sedan Chair.
In what was one of his last duties as Mayor, Councillor James Tinlsey officially opened the restored gardens on Wednesday, which, he said, was 'an honour and a privilege'.
The project, which began in 2000, cost £4.3million with funding provided by key hinders Lisburn City Council, the Heritage Lottery Fund and the Environment and Heritage Service.
The gardens are considered to be the best, perhaps only, example of 17th century walled gardens and terraces in all of Ireland. During the restoration the extensive archaeological digs, which saw many local children and groups contribute, uncovered many historical artefacts, including 17th century Dutch tiles and roof tiles.
Guests, who included members of the City Council, representatives from the Heritage Lottery Fund and members of Castle Garden's design team, were treated to an authentic re-enactment of the famous 1677 duel held in the grounds of Lisburn Castle, a former manor house which was destroyed during the great fire of Lisburn in 1707.
The Mayor told those present: "It is truly an honour to be here to officially reopen the restored gardens -this is truly one of the city's greatest assets.
"There is the opportunity for these magnificent gardens to become a top tourist attractions."
Mr Tinsley explained that as well as viewing the remarkable gardens, visitors to the site would be able to visit the air raid shelter and make use of the comprehensive education programme, within a 'safe and accessible' site, which has full CCTV coverage.
He continued: "It is lovely to see the gardens a hive of activity with people taking advantage of them -that's what they're here for. It is a privilege and an honour to be here today to officially open Castle Gardens in what is one of my final acts as Mayor. I have had a fantastic year and it is an honour to have the opportunity to reopen the gardens before I finish my term.
"Castle Gardens are to be enjoyed by the general public and visitors to Lisburn for recreation, leisure and heritage purposes."
Councillor Allan Ewart, Chairman of the Council's Economic Development Committee added: "The council is delighted with the completed gardens. They are a magnificent tribute to the history and heritage of the City of Lisburn."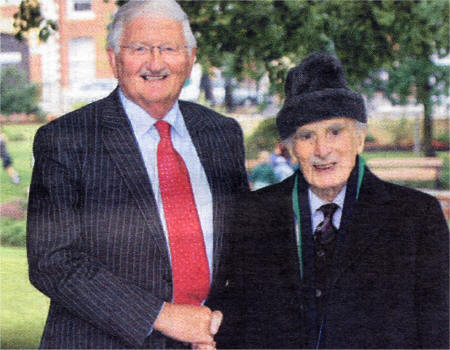 At the official opening of the Historic Castle Gardens, is the Deputy Mayor, Or Ronnie Crawford with Dr Samuel Semple, Freeman of the City of Lisburn and guest at the occasion.
---
Local company helps to restore Castle Gardens
LOCAL company Tarways were delighted to be involved in the restoration of Castle Gardens, providing the paving stones around the new walkways.
Tarways was set up as a bitmac and asphalt company in 1989 by brothers David and Walter McAllister, who had been involved with sub contract public work and private drives.
In December 2003, the company, whose office is based in Maghaberry, were awarded the Sureset Resin Bound Agency for the whole of Ireland and were the first resin bound paving company in Ireland.
They have carried out jobs from small front paths to public parks and sea front promenades, working on places such as Avre square in Galway, Howth Harbour North Dublin, Carton House Hotel Kildare, Dundrum Town Centre Dublin and Belfast City hospital. .
Tarways have been building up on their client list year on year and hope to expand as they go on. They were first approached by the architects about the Castle Gardens scheme shortly after they were awarded the Sureset Agency and were awarded the contract by JPM Contracts in January 2007. Work commenced on the project on June 26 2007, completing the work on July 5 2007 using 80 tonnes of stone and resin supplied to them from England by Sureset UK, covering over 2600 square metres of paths.