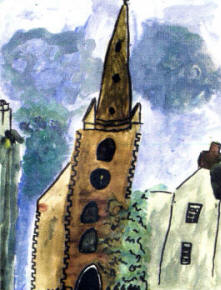 LISBURN Historic Quarter Arts Group has launched its limited edition 2009 calendar which features illustrations of well known landmarks from the Historic Quarter of Lisburn City by local artists and school children.
The 2009 calendar features the winning entries from a competition which was held earlier this year and attracted a huge number of entries from artists of all ages.
They were invited to submit images illustrating landmarks, focal points, features and scenes from the areas within the Historic Quarter to include Railway Street, Castle Street, Lisburn Cathedral, Castle Gardens, Market Square, Lisburn Museum and Irish Linen Centre and Lisburn Railway Station.
Competition winners whose work has been featured include Barbara Love Smith, Alanna McKee, Autumn Armstrong (Pond Park PS), Kristopher Law (St Joseph's PS), Adam Ervine (South Eastern Regional College), Kerry Hawks (South Eastern Regional College), Kris Wilson, Lucy Mulholland (Pond Park PS), Sandie Heal, Lawrence Chambers and Dawn Mitchell.
The calendar is available to the general public and copies can be purchased for £2 from Island Arts Centre, Lisburn Museum & Irish Linen Centre and Lisburn and Hillsborough Tourist Information Offices.
For further information about the calendar or the work of the Lisburn Historic Quarter Arts Group check out
www.islandartscentre.com or contact Louise Smith on 9250 9509, emai1: louise.smith@iac.lisburn.gov.uk
Ulster Star
19/12/2008