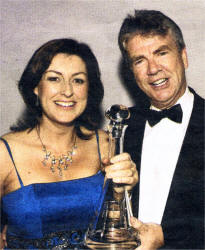 LISBURN man Terry Loughins who is Trade Sponsorship Manager at Diageo, the drinks company behind brands such as Guinness, Harp, Baileys and Bushmills Irish Whiskey, has been crowned Hospitality Hero of 2008
Terry, who has worked for Diageo in Northern Ireland for 23 years, has been responsible for providing sponsorship for thousands of events across the spectrum.
These range from football to rugby and from the annual Hillsborough Oyster Festival to the hugely successful Guinness Jazz and Blues season which runs at venues around Northern Ireland.
Terry's nomination to Hospitality Review's 'Hospitality Heroes Hall of Fame' brought him a standing ovation at the Northern Ireland Hotels Federation's Great Northern Feast, attended by leading figures from the tourism industry, the hotel sector and the pub trade. The event took place in the Ramada Hotel.
Nominating Terry for the award, Hospitality Review Editor Emma Cowan said: "This is a man who genuinely enjoys entertaining people — he is undoubtedly the host with the most, always there and always with a smile on his face —absolutely one of a kind. He has time for everyone and is respected and liked right across the spectrum of the hospitality trade."
Accepting the accolade, Terry said: "I am delighted to have received this award. Being recognised by the industry is a great honour and something I will cherish. It has been a joy to work with Diageo and its iconic brands over the years and I would like to thank all those I have worked with for all their support."