Plans revealed for 70-bedroom hotel near Leisureplex
by JULIE ANN SPENCE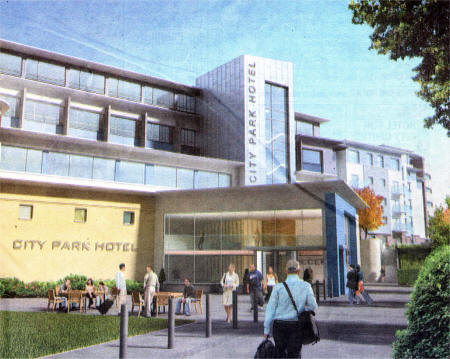 How the new hotel planned for the Leisureplex will look.
LISBURN'S first city centre hotel -beside the Lagan Valley Leisureplex - could be up and running within two years.
This week local developer Joe Tumelty revealed details of the plan to bring a multimillion pound three star, 70-bedroom hotel to the site off Governor's Road.
The hotel will be built at the car park to the right of the Omniplex and, crucially, will not be dependent on grant aid from Invest NI, meaning it can be built quickly, once planning permission is granted.
As well as investing some £7 million on building the hotel, Mr Tumelty also hopes to build 60 apartments on the site, bringing the total investment to £10 million.
Speaking to the Ulster Star this week Mr Tumelty, from Ebony Developments, and architect Ciaran Deazley from Gregory Architects assured local people their commitment was to bring a 'family-friendly hotel' to the site.
"This isn't something, we have just come up with," said Mr Tumelty. "We have been planning this for over two years and we hope at this stage we have ticked all the appropriate boxes." Plans for the hotel development were submitted to the planners last month, but Mr Tumelty said initial consultations with the Planning Service had been 'favourable.
He also stressed the hotel, which will also include 250 car parking spaces, would be aimed at families and businessmen who are visiting the city, as well as sportsmen and women using the facilities at the Leisureplex and Salto Gym.
"This will compliment the existing facilities at the Leisureplex," he continued. "Families are currently travelling from places such as Londonderry and Enniskillen to use the Lisburn facilities. This hotel will mean they can turn that visit into an overnight stay."
He said that while it will be an affordable three star city centre hotel it will be built to four star standard, with the rooms measuring 28 square metres, some seven square metres larger than the average three star room.
In addition to the hotel and apartments, Ebony Developments would also undertake extensive improvements to Governors Road, to include a new slip road into the Leisureplex site and a right-hand turning exit, with an additional lane down to the roundabout.
Hotel project gets seal of approval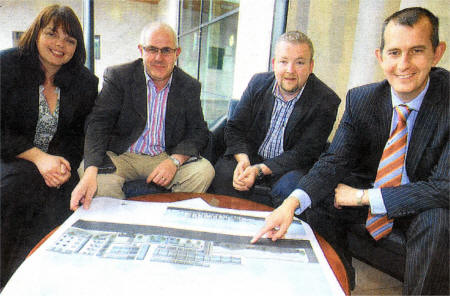 Patricia Elliott Lisburn City Management, Joe Tumelty of Ebony Developments, Ciaran Deazley of Gregory Architects and MLA Edwin Poots Chairman of Lisburn City Centre Management look at plans for Lisburn's first city centre hotel. US2308-138A0
THE plans for a multi-million pound hotel in Lisburn City Centre have been warmly welcomed by Lagan Valley MLA Edwin Poots, Chairman of Lisburn City Centre Management and Patricia Elliott, Lisburn City Centre Manager.
Mr Poots and Ms Elliott met with the developer and architect this week to look over the plans, which were submitted last month, and both are confident it will be a huge boost for the city.
"I am confident this scheme will go ahead, which is why I want to support it," said Mr Poots. "We have had a lot of promises of hotels and a lot of disappointments. However, the owner of this company is a local man, committed to making things happen and he has already developed a number of sites in the city, including Garvey Studios."
Mr Poots added that he was certain the city could sustain more than one hotel.
"We are confident Lisburn can cope with the number of hotels planned for the city," he said. "If you look at other cities of similar size they have four or five hotels."
Ms Elliott added: "We are delighted Mr Tumelty is getting this off the ground. I thank him for the time he has put into it and I know it will be a big boost for Lisburn."
Another hotel gets the green light
PLANS for a city centre hotel were revealed in the same week that planning permission was granted for another hotel in the city.
Lisburn City Council's Planning Committee welcomed news that approval had been granted for the development at Knocknadona Quarry on the Moneybroom Road.
The plans for a multi-million pound 50 bedroom hotel and health spa were submitted last year, but Holywood Homes and Ardcastle Developments, who are working in conjunction with Capella Hotels, a luxury hotel group who will be building their first hotel in Northern Ireland at the quarry site. Plans for the hotel and health spa also include car parking, walk/fitness trails and landscaping of the former quarry. Welcoming the granting of planning permission, Councillor Allan Ewart said he was giving 100% backing to the development.
Chairman of the Council's Planning Committee, William Leathem added: "I hope it is not too long before we have this hotel up and running."