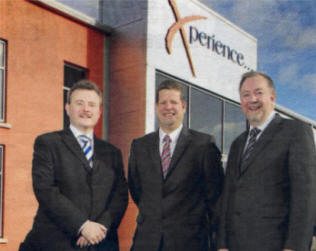 LISBURN IT company Xperience has recently acquired the Belfast-based accounting software reseller Accounting and Business Technology (NI) Limited (ABT). The company says the acquisition will consolidate the company's standing in the marketplace, with a joint clientele of more than 400.
Xperience, based at Knockmore Hill Industrial Park, is a 'one-stop-shop' for the IT requirements of businesses, including hardware, network support and accounting software. They took the decision to acquire ABT, who focused on accounting software developed using the skills of qualified
accountants, to offer clients a wider range of products and services.
Patrick Leggett, Group Sales Director of Xperience explained: "This acquisition further enhances our reputation as the leading supplier of accounting and network solutions to the local SME market. We believe we are the largest accounting software reseller in Northern Ireland with around 4,000 business users working with our software packages across our client companies.
"The current economic climate was never a factor in the acquisition. It was a strategic move for the businesses, both of which have enjoyed
significant growth in recent years." Andrew Cavey, former managing director of ABT, has joined Xperience as a director. He commented: "ABT was founded in 1994 and has been growing steadily since, more than doubling the client base in the last five years to in excess of 150.
"With ABT's knowledge and expertise being incorporated into Xperience's range of products and services, we can offer a unique proposition within the Northern Ireland marketplace. We can see many growth opportunities for the future to provide an even more efficient and beneficial service to our customers."