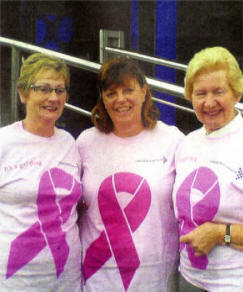 LISBURN women, Evelyn Dane, Dorothy Fulton and Joyce Moran are throwing their full support behind the 'It's a Girl Thing' campaign which is being held in October in aid of Cancer Research UK as part of breast cancer awareness month.
The women, who are members of the Lisburn Local Committee of Cancer Research UK, have all been closely affected by cancer. Chairperson, Joyce Moran said: "It's a Girl Thing gives people the chance to help find a cure for breast cancer while having some fun doing so.
This is a very worthy cause and Cancer Research UK can make it really easy for everyone to get involved."
The Lisburn Local Committee has been fundraising for cancer research since 1958. They have raised nearly £275,000 in the past 10 years alone and the overall figure is likely
to be close to £1m.
Kevin Harper, Area Volunteer Manager said, "The Lisburn Local Committee is a dedicated and committed group of volunteers and their hard work has always been matched by the generosity of the people of Lisburn.
"Cancer Research UK currently spends over £1.7m each year in Northern Ireland alone on ground breaking research. This vital research would not be possible without the support of people like the Lisburn Local Committee."
Anyone who wants to get involved with breast cancer awareness month can regist e r on-line at www.cancerresearchuk.org/breastcancer or by calling 01865 716 655.
If you would like to find out more about the Lisburn Local Committee please contact your Area Volunteer Manager, Kevin Harper on 07918 034 958 or email Kevin.harper@cancer.org.uk